Looking for your next career opportunity? Rest assured, you are not alone in your job search as a mother: 86% of women become mothers by the time they are 44, and more than 23 million moms engaged in paid work in the U.S. in 2020. Regardless of if you are in your job search to return to paid work for financial reasons or for a different, intangible benefit, we've got you covered.
Whether you're returning to work after a pause, looking for a more supportive #WFH opportunity or simply ready to revamp your career, we'll walk you through each step of owning your job search and finding a position you love.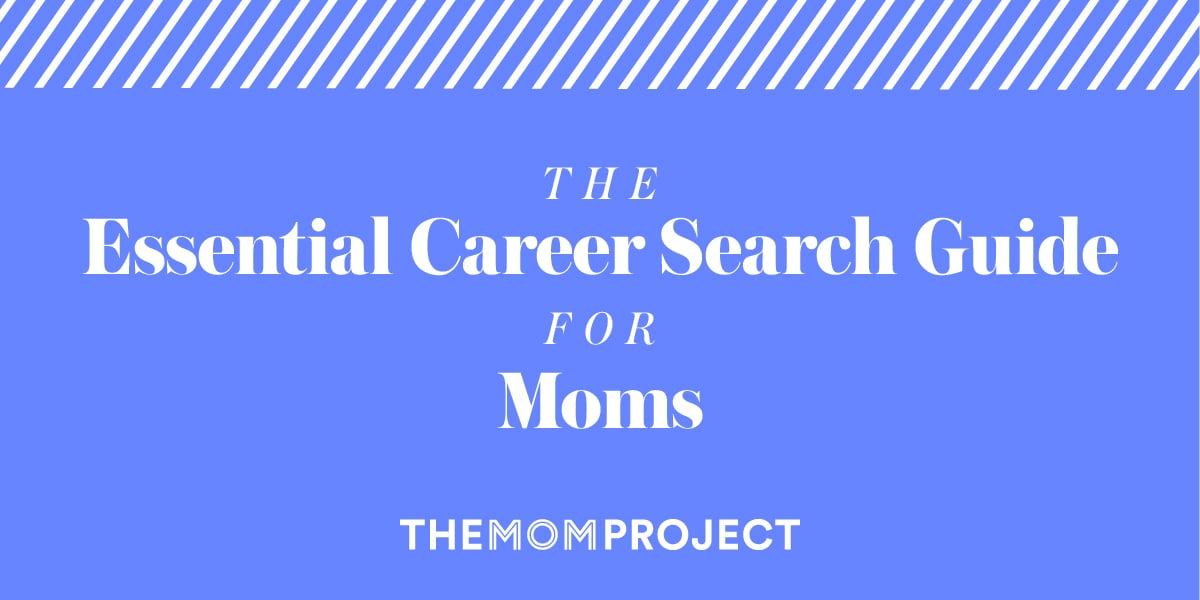 Jump to:
Moms in the workplace
As you approach your search, you can apply confidently knowing that moms are good for business. Moms in the workplace drive greater productivity, more collaboration and more retention.
When employees have a manager who is also a mother, they report:
40% greater retention: Female employees are 40% more likely to stay at their current employer within the next year.
12% higher productivity: Female employees rate their anticipated productivity 12% higher than those without a manager who is a mother.
23% more positive workplace experience than those without a manager who is a mom
📄 Learn more about the value of moms in the workplace: Read The Mom Success Factor Report by WerkLabs, the research and insights division of The Mom Project.
Don't be afraid to use these stats throughout the interviewing process. If a company doesn't realize everything you can bring to the table as a mom, you have the ability to educate them on why you are more than just what your resume represents.
How your career search changes with motherhood
Job searching as a mom can come with extra challenges like interviewing while pregnant, overcoming over-qualification and explaining a career pause. If you feel like any of these could impact your current job search, here's what you need to know.
Interviewing while pregnant: Growing your family doesn't mean you have to stop growing your career. Get started early, work your career search steps as you normally would and share your news when you're ready.
Overcoming over-qualification: The most effective way to combat ageism in your job search is to bring the focus to your experiences and value, not your time in the workforce.
Addressing a career pause: You're not alone in taking time off to focus on your family. Address this pause proactively on your resume and in interviews by shifting the focus to the real power of this pause: the additional skills you sharpened and your renewed focus for work.
Career search quick-start
The secrets of a successful career search really aren't secrets at all: prepping value and results-driven application materials, smart search tactics and, the biggest one, time and effort.
While a focused job search does typically takes around 8 weeks, there are some things you can do immediately to kick off your search and position yourself for success.
5 tips for job search success
Refresh your resume:

If it's been awhile since you looked at your resume, spend an hour or so updating it to reflect your most recent roles. Our Resume Rev

tool

makes this easy by guiding you through completing each section of your resume and creating a professional-looking PDF you can download and use anywhere to apply.


Set-up job alerts: Create job alerts on a couple career sites. You'll begin receiving emails with jobs that meet your search criteria. Set aside 15-30 minutes each day to review these emails and check the sites for new listings that haven't yet made it to your email.


Contact a few key networking connections

:

Let them know you're beginning to consider new opportunities. Try to connect with new contacts at companies you're interested in working for.


Start applying: Responding within the first 24 hours of a job posting going live usually has the best results. As you apply, customize your resume and cover letter to match the job description. Save each of these versions so you can use them again quickly for similar jobs in the future. If you're on the fence, apply! You already have your materials prepped and ready to go, and sometimes stepping out of your comfort zone pays off.


Prepare your interview space: Prepare for distraction-free video and phone interviews, and select a few go-to interview outfits to try on. You'll feel more confident knowing you have a solid look at a moment's notice.
✏️ Get started: Watch our Career Search Bootcamp session to kick off your career search with our top tips and best practices for a successful career search.
Setting career search goals
Setting clear goals helps you focus your search and use your time wisely. These goals may be tangible like salary requirements and job titles, or they may be more intangible like flexibility and a positive company culture. In fact, a WerkLabs study reported that 42% of women ranked flexibility as their #1 motivator when picking an employer, and 88% of women reported that flexibility was at least as important as salary when considering an offer.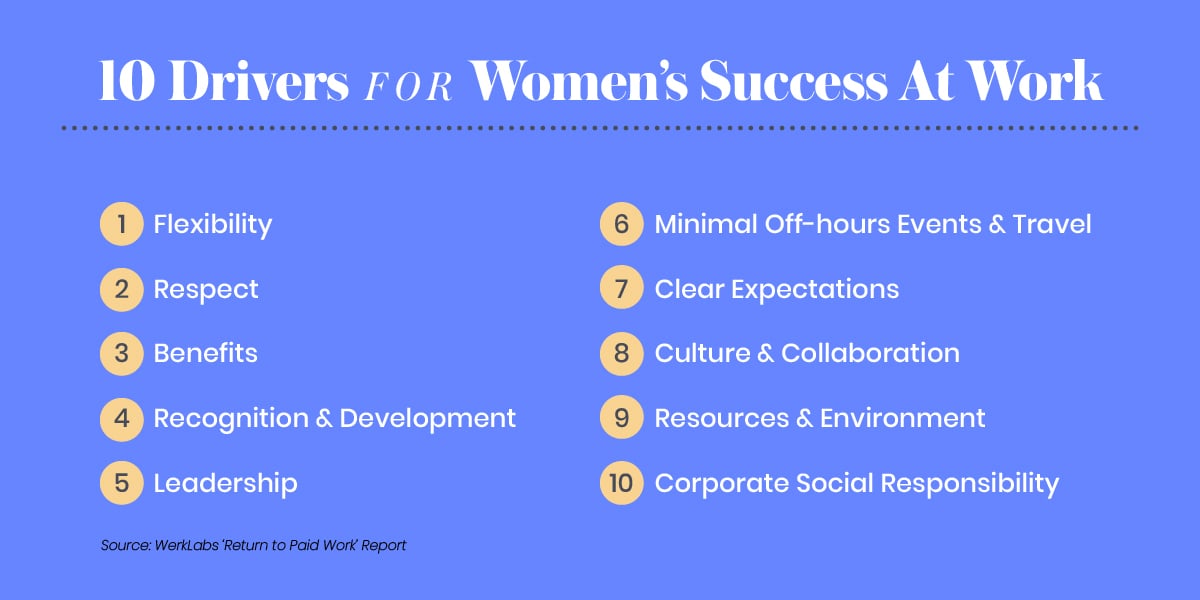 1. Define your goals
Ask yourself these questions, and make your answers as specific as possible.
What type of work do you want to do?
What does your ideal compensation package look like?
What is your preferred work schedule and workload?
Are you open to permanent, contract or project-based work?
Do you want to work remotely or on-site?
What kind of company and team do you want to join?
"Looking for part-time work or remote opportunities? Open to working full time ... but want it to be for an employer that 'gets it'? Establishing what type of role works for you and your family will make your job search much more focused—and your outcomes much more desirable." — Colleen Curtis, Chief Community Officer at The Mom Project
2. Set a salary range
As you consider your salary range, keep in mind non-compensation based benefits like flexible schedules, health benefits and childcare stipends. Having more benefits may mean you're able to accept less, while the lack of these benefits means you'll need to make more in order to cover them on your own. Knowing your salary range helps you answer confidently when the question comes up.
"Sometime I have candidates tell me that we'll 'worry about money at the end,' and that's not in their best interest. We want to make sure we are on the same page." — Mandy O., Talent Success Manager

Answering "How much would you like to make?"
Even though you have a salary range in mind, ask for more details before answering this question in an interview. Your goal is to get a number from the employer first. Ask about:
The company's range for the position
Other benefits the role may offer
The ideal schedule for the position
If pressed for an answer, respond with your salary range instead of a firm number. This gives you room to negotiate when you receive an offer.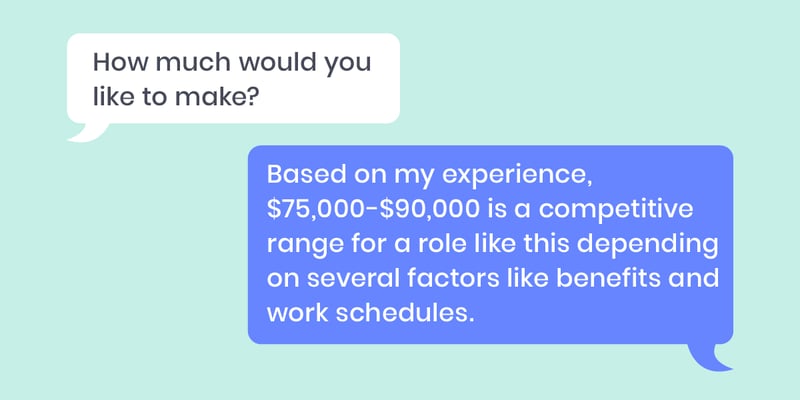 Make it happen

📖 Read How to Determine Your Ideal Salary Range (and Ask for It)

▶️ Watch Negotiation and Compensation 101
3. Consider your options
Now more than ever, companies are offering flexible schedules, remote-work options and contract-based positions as they rebuild their workforce. The flexibility these types of roles offer is great for moms who are juggling children's schedules, home responsibilities and careers. If your budget allows, opening your search to contract and temporary roles can be a great way to discover new opportunities.
The ideal work week for most women is not 9 to 5. The majority of women prefer an alternative 20-30 hour work week. Remember, even if you're working a 40-hour week, when and where you work these 40 hours can be flexible.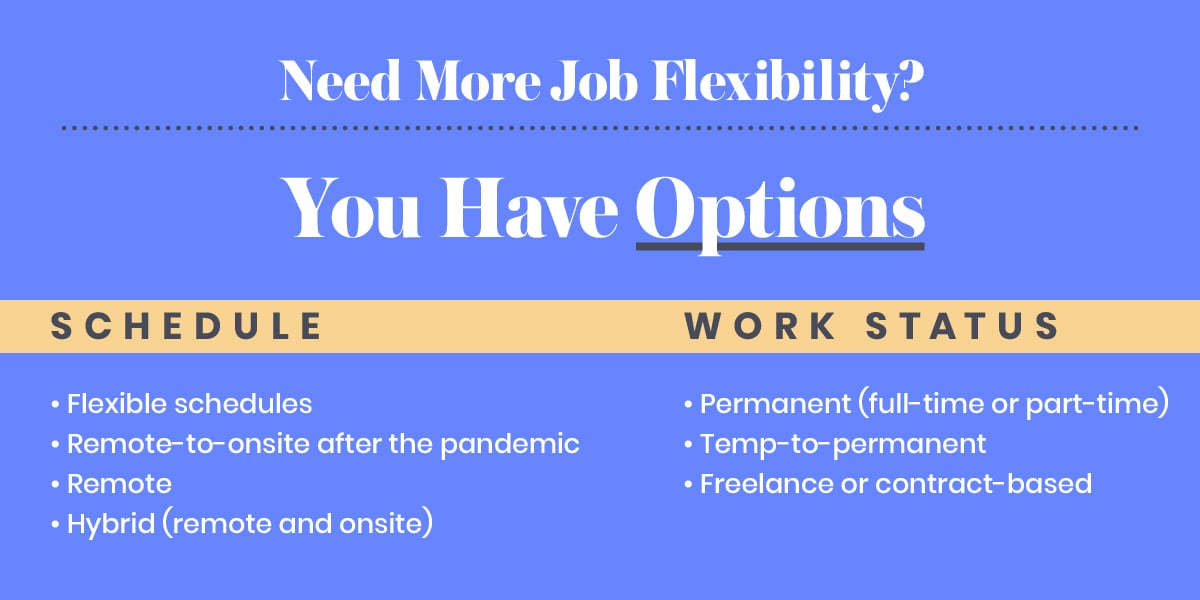 👗 Find your fit with The Mom Project: Join The Mom Project to browse part-time and full-time career opportunities from vetted companies that support work and life integration. Sign up or log in
Preparing job application materials
Now that you have a sense of the types of roles that will fit your personal career goals, it's time to update your application materials to reflect your personal brand. Then, you can create tailored versions of your resume and "Why Me" statements to match the different types of jobs you're applying to.
1. Define your personal brand
You'll be describing yourself frequently during your career search - in interviews, on online applications, in your cover letter and even at the top of your resume with a "Why Me?" statement. Creating a personal brand helps you stand out in a stack of resumes.

A strong sense of your own personal brand can build credibility, trust and authority with potential employers. By clearly understanding what you're good at, what you're passionate about and the results you've driven, you can confidently convey these to an interviewer.
👉 Conduct a digital check-up: When an employer searches for your name online, what results will pop up? Do a quick check-up on your social media profiles and search results to make sure you're putting your best digital foot forward.
Digital presence checklist
Create a simple email address.

Research shows

that

76% of resumes are rejected

due to unprofessional email addresses.

Set your social media profiles to private, unless they're a key part of your personal brand

If they're public, remove any controversial content

Update your LinkedIn profile

Make sure you're using professional-looking headshots on your accounts

If you have contributed to online sites in the past and don't want that information to appear in search results, contact the site administrator to remove the content or change the byline.
Make it happen

📖 Read Owning Your Personal Brand: What It Is & How It Helps

⬇️ Download the Personal Brand Worksheet

▶️ Watch Owning Your Personal Brand
2. Update your resume
Recruiters typically only interview 4 to 6 candidates out of hundreds of applicants. Make your resume stand out by quickly communicating your skills and experience that make you the right fit for this specific role.
"Your resume must be searchable, specific and scannable." - Ashley Cash, Career Coach & Resume Expert
🔓 Unlock a next level resume by the end of the week: Sign up for our 5 Day Resume Challenge. Starting today, we will send a daily resume challenge directly to your inbox for five straight days. Get started
Prep a few versions of your resume
If you are applying to several types of positions that emphasize different skills, have a few versions of your resume prepped and ready to go. Each version can highlight the specific skills that are most relevant for the roles you're applying to.
Focus on impact and results
Use just 5-8 bullet points to explain your experience in each position on your resume. Focus on the results you drove and the positive impact on the business.
Highlight your accomplishments
Rather than simply listing out your duties, focus on your accomplishments. Showcase specific ways you've helped other employers reach their goals. Use action words like "increased" or "decreased" and share specific numbers when possible.
Owning a career pause
If you've taken time off to be with your family or have experienced a period of unemployment after a layoff, it's important to address this career pause on your resume.
If your career pause is more than a few years, the way you format your resume will help you catch a recruiter's eye. Instead of using the traditional start and end date format, create an "experience" section at the top of your resume. Use this area to explain both the paid and unpaid work you did during your pause.
Make it sound as professional as possible. If you volunteered at a school, for example, use the name of the school district organization instead of just the school name. Even if you've done just a couple projects a year over the span of 10 years or so, consolidate this experience and label yourself as a consultant. Include a mention of "select clients" you've worked with and make sure the top names are right here on the first page of your resume.
Experience is experience! The timing of your experience is much less important than the skills you learned and the value you drove.
Make it happen

📖 Read Writing Your Resume to Sell Your Story

▶️ Watch Resume Redux

✏️ Create your resume with Resume Rev (we've made it easy to include a career pause)
3. Hone your "Why Me?" statement and prep a cover letter
Applying for a role through The Mom Project? Writing a strong, convincing "Why Me" statement is one of the best chances you have at getting a hiring manager to notice your application and schedule an interview. A great statement is specific, personal and concise. Begin by writing your statement, then be sure to tailor it to each job you apply to.
Your "Why Me?" statement can be used:
To answer The Mom Project's "Why Me" section on applications
At the top of your resume as an intro
In an introductory email to a recruiter
---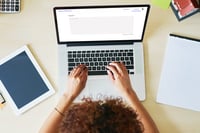 Answering "Why Me?" on Your Job Application
Learn how to create a compelling "Why Me?" statement in 600 characters or less.
---
3 examples of great "Why Me?" statements
"I've done this job exact job while at [Company] last year and I did it well. I stepped in with minimal ramp up while a full-time employee was on maternity leave. I'd do the same for your client. I'm best at handling competing priorities, great customer service and working as part of a cross functional team. I'll do what it takes to get the job done on time, on budget and all with a smile. I'm team-oriented and I'm happiest working in an open, collaborative environment. I also have a great sense of humor!"




"My career has been on the agency side in shopper marketing—working with clients like [Company], [Company] and [Company]. Most recently I spent the past 8 months as a brand marketing contractor working with [Company] to develop a marketing plan and process for their new Optical department. I'd love to continue working in this category and use the knowledge I've garnered to date in combination with my 20+ years in shopper marketing."




"With 15 years of experience in the Accounting field, I have a strong background in month-end close, Sarbanes Oxley and system implementations. I started my career in public accounting with [Company] and spent nearly a decade at [Company] in Internal Audit and Corporate Accounting roles. Currently I am working with their former subsidiary [Company]. As a mom with two young kids, I am looking for an opportunity that allows me to learn and grow my career, while being available for my kids. I am very excited to about this opportunity and look forward to hearing from you!"
Make it happen

⬇️ Download the "Why Me?" Statement Template
Craft your cover letter
Next, prep a sample cover letter. Your cover letter is your chance to share your personal brand and expand on your "Why Me" statement with specific examples of your success.
For moms coming back to work after a career pause, the cover letter is also a great spot to address this gap in your work history and explain all the skills you've honed during this time like:
Scheduling
Project management
Budgeting
Planning
Mentorship
Leadership and volunteer activities
Make it happen

📖 Read Writing a Cover Letter That Gets Noticed (and download the Cover Letter Template!)
4. Update your value portfolio
If you've already created a value portfolio to advocate for a raise or promotion, now's the time to update it. A value portfolio is a digital and/or physical collection of your notable accomplishments and the specific value they drove. You can also include referrals from clients and co-workers.
Your value portfolio is extremely helpful in your job search because you can provide it to recruiters along with your cover letter to give them specific examples of your work. You can also include it in a thank you email to an interviewer. Or, you can simply use it as an outline of examples to share during a virtual interview.
Finding family-friendly employers
Finding a company that supports moms isn't always easy. You can start connecting with mom-friendly employers by joining The Mom Project. We carefully vet the companies we work with and the jobs we list to ensure they're family-forward.
Evaluate company benefits
Taking a look at a company's overall approach to these types of benefits can give you a good idea of their general attitude toward families.
PTO structure: Separate banks for vacation and sick days are helpful because moms often have to take "sick" days to care for their own sick children.
Rollover policy: If the majority of your vacation days don't roll over, the company likely encourages employees to actually take time off during the year.
Healthcare options: Family-friendly employers tend to cover a portion of the family's premiums, not just the employees. Depending on the ages of your children, consider other benefits like orthodontics coverage or childcare credits, too.
Maternity leave: Even if this benefit doesn't apply directly to you, the leave a company provides (or doesn't provide) can be telling.
Of course, not all family-friendly employers can do all these things. Small businesses, for example, may have more limited health coverage due to the expense. Hands-on industries may not be able to offer extended leave packages because every employee is critical.
But look beyond the benefits, too
There are other intangible signs that a company supports moms. Look at their executive team and board of directors, and note how many women and/or moms you see. Check their bios to see if they mention family or life outside work. If they do, it's a positive sign.
Defining "family-friendly"
Everyone has a different definition of this. It's up to you to make a list of the benefits and cultural aspects that are most important to you. Rank them in order, and be prepared to say "no" if a company doesn't meet your expectations.
Depending on what's most important to you, you can include some questions in your interview on:
Expectations for working or checking email outside of standard office hours
Leave options a small business provides outside of FMLA protection
Options for working from home
Flexibility around start and end times for the workday
---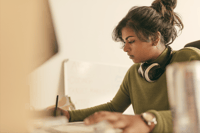 Finding a Family-Friendly Employer: Things to Look for & Questions to Ask
Looking for a family-friendly company for your next career move? Here's how to find a good fit. Read more
---
Networking basics
One of the biggest mistakes job searchers make is relying solely on online job postings. So don't overlook networking in your job search! 80% of jobs are never even posted, and referrals make up 40% of all job offers.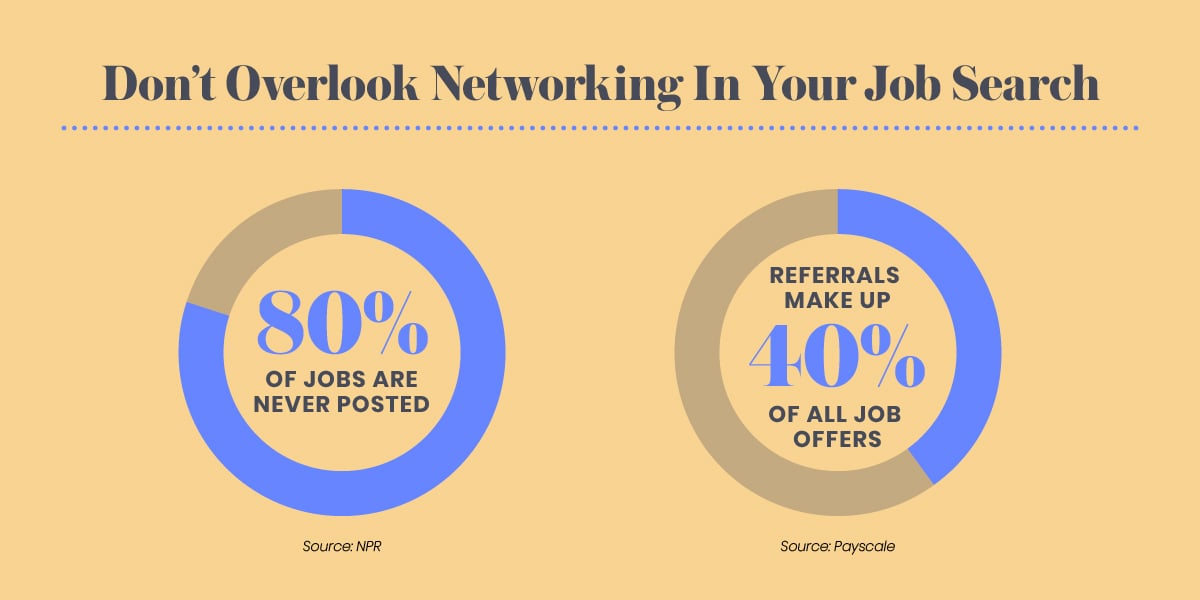 3 Steps to get started
Identify and follow 20 companies on LinkedIn you'd potentially like to work for in some capacity, even if these companies don't currently have job openings listed
Connect with at least 5 people from each company
Begin to engage with content from these connections in your feed in a meaningful way
Why networking matters
LinkedIn creates a short list of applicants for recruiters based on your interaction on the platform. Spending just 15 minutes a day nurturing these network connections can put you on this short list. And, it makes you top-of-mind when one of your connections hears about an opportunity that could be the right fit.
Easy networking opportunities
Look for micro-opportunities to network like joining a Twitter chat or attending a virtual meetup.
Keep in mind your second degree connections. Search for a job title you're interested in, and use LinkedIn to see who you are already connected to.
Look for recruiters working with the companies you're interested in working with and connect with them on LinkedIn.
Make it happen

📖 Read Networking 101

▶️ Watch The Art of Networking
Interviewing
Congratulations! Your cover letter and resume caught the hiring manager's eye and you've been invited for an interview. This is your chance to really sell your story and position yourself as the ideal candidate.
Some common interview questions
Tell me about yourself.
Why is there a gap in your employment?
What are your greatest strengths/weaknesses?
Tell me about a challenging project at work and how you solved it.
Where do you see yourself in 5 years?
---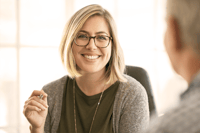 How to Answer "Tell Me About Yourself" in an Interview
Get ready to craft a memorable response to "Tell Me About Yourself" for your next interview.
---
Ask a few questions of your own
Remember those goals you set in the beginning of your search? This interview is your opportunity to assess a company's culture and determine if it's the right fit for you. Most interviewers will wrap up their interview by asking you if you have any questions for them.
"A work arrangement is a two-way street, so take the time to make sure you will both you AND your employer will be happy in the relationship." - Colleen Curtis, Chief Community Officer at The Mom Project
Top tips for every type of interview
Familiarize yourself with the job description and think of specific examples from your work experience that demonstrate the skills they're looking for.

Smile and show enthusiasm. Even if you're on the phone, your smile makes a difference in how you are perceived.

Be prepared to answer questions about your desired schedule and salary requirements.

Follow up with a thoughtful thank you message via email within 24 hours.
Nail the follow-up with a thank you message
Now that you've wrapped up your interview, there's one more essential step - the follow-up. Email is a great option—the majority of hiring managers prefer it.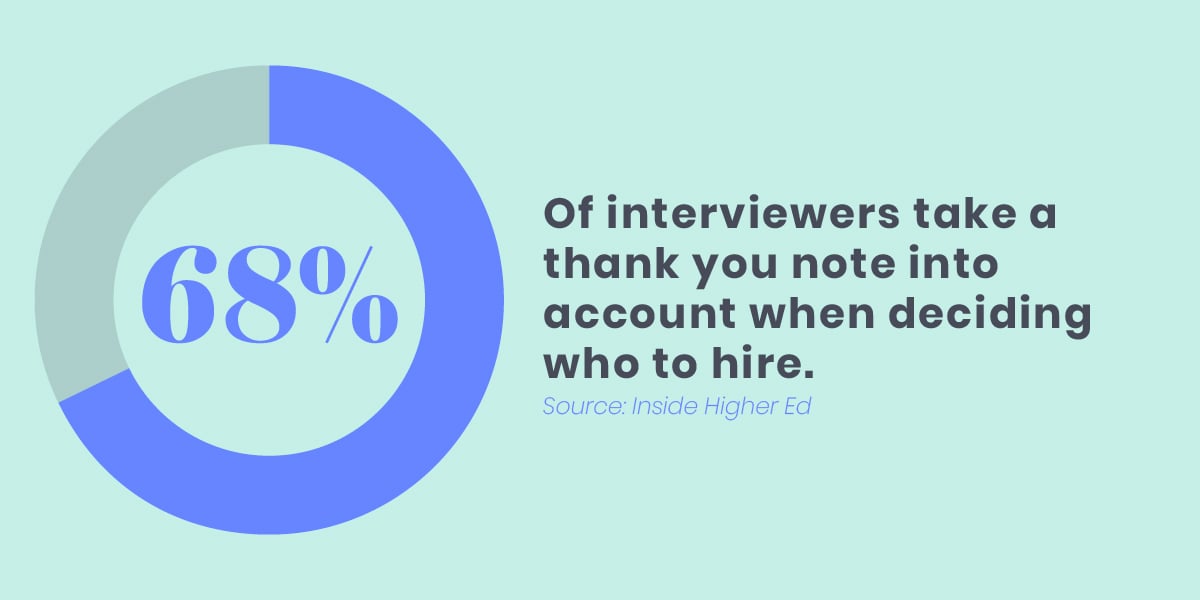 6 Steps to a great thank you note
Start with a greeting
Express appreciation
Reiterate your interest
Remind them of something you discussed
Tell them something that didn't come up
Bring up something you learned
---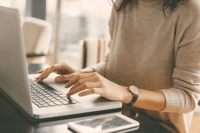 Writing the Perfect Post-Interview Thank You Note
Learn the 6 key components of a successful thank you email and how to nail them.
---
Make it happen

📖 Read Stand Out During Your Interview By Asking The Right Questions

🔎 Explore How to Assess a Company's Culture
Negotiation
You made it! You landed a job offer from a great company, and now it's time to review your offer letter and iron out the final details of your employment. If you weren't provided with a written offer, it's important to request a written version to review. You can provide a soft verbal acceptance and request a couple days to review the final written offer.
"Don't start negotiations right away! Express your excitement and appreciation, then ask 'could you please send my full offer including compensation, insurance and benefits over in writing?' Ask for a day or two to review." - Ashley Cash, Career Coach & Resume Expert
Crossing the finish line
Step 1: Evaluate the offer
The details of this job offer have a ripple effect on the rest of your career path so it's important to take time to fully evaluate the offer and negotiate where necessary.
Divide your job offer into smaller, digestible pieces and review all the details including:
The basics:

Start date, job title, base pay, work location, work schedule, employment terms

Total compensation:

Sign-on bonus, cash bonuses, commission, stock options, 401k matching/contribution

Health and wellness benefits:

Medical/dental/vision insurance, life insurance, disability insurance, Health Savings Account (HSA) or Flexible Spending Account (FSA)

Time off policies:

Vacation time, sick time, flexible schedule options, leave policies, holidays, parental leave policies

Employee perks

: Wellness reimbursements, Dependent Care FSA, company-provided cell phone or office cost stipends, tuition reimbursement, ongoing education and learning opportunities
---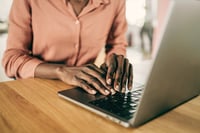 How to Evaluate a Job Offer
You'll feel much more confident accepting a new job if you take your time to review the offer first. Here's how to deconstruct and evaluate a job offer. Read more
---
Step 2: Submit a counteroffer
Negotiating your job offer can raise your starting salary by an average of 7.4%. Consider your salary, any benefits and the extras you may have hoped for (like work from home Fridays, for example). You can submit your counter-offer via email with a bulleted list of the changes you'd like to see and a brief explanation of the reasoning for each.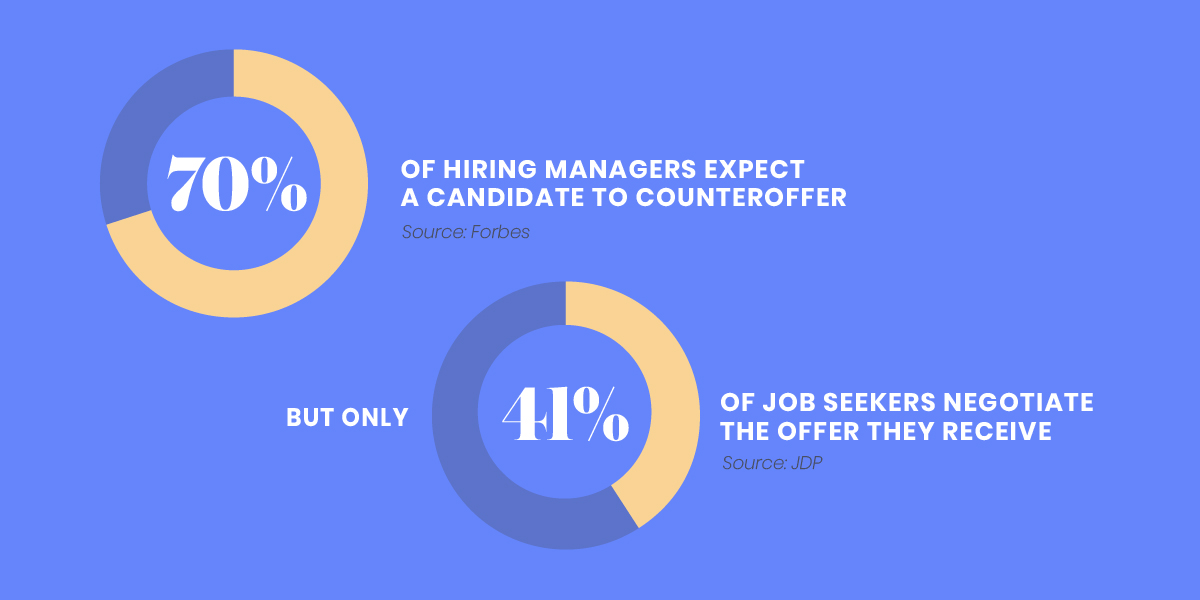 Step 3: Determine your non-negotiables
Establish your deal-breakers before you are presented with your next offer so you know where you're willing to compromise and where you'll stand firm (and counter again).
Confidence is key. Avoid over-explaining yourself in your response. Take ownership of the changes you're requesting. You've done a great job already convincing the employer of your value or they wouldn't have extended an offer. Now, you can leverage that value to get the job offer you deserve.
Make it happen

📖 Read How to Effectively Negotiate Your Job Offer

▶️ Watch Negotiation and Compensation 101
Hitting reset
The average job search takes about 8 weeks. If you feel like you've tried everything and aren't seeing any results, ask yourself what's not working.
If you're applying and not hearing back: Recruit yourself! Re-read your resume and your cover letter. Is your personal brand clearly stated? Are you highlighting your top skills in an easy-to-read format? Need help? Try our 5-day Resume Challenge and revamp your resume by the end of the week.
If you're not seeing jobs that seem like the right fit: Reset your search parameters. Focus more on your experience level and skills and less on specific job titles. Look outside your current industry. If you're using The Mom Project, make sure your talent profile is 100% complete. Completed profiles are 10x more likely to get noticed by employers and your job search matches will be more accurate.
If you've had a couple interviews but aren't progressing: Practice makes perfect. You know the types of questions to anticipate in interviews now. Record yourself on video responding to 3 or so questions you've been receiving and rate your own responses. How can you simplify, make your point quickly, and better communicate the value you bring to an organization?
Make it happen

▶️ Watch Tried Everything in Your Job Search? Here's What's Next
Need a break?
Go for it! Taking time away from a stressful search is important for your mental health, and the goal is to come back into your search refreshed and ready to try something new.
Pause your job alerts for a week and reconnect with the people around you. Then, before starting your search again, reexamine your goals and consider how you can adjust your job alert settings. Maybe it's time to consider contract positions in addition to full time employment, or maybe it's time to set up a call with a few of your networking contacts.
Don't forget to breathe - both literally and figuratively! Use the time you would spend each day job hunting to care for yourself by taking a walk, enjoying a podcast, meditating or doing a favorite hobby. Take a look back at how far you've come in your search by setting goals, updating your resume, making new networking connections and even keeping your skills up to date.
When you start your search again, revisit your goals and congratulate yourself on your experience. The right employer will come along, and you'll be ready to confidently explain why you'll be a valuable, important part of the team.
And once you've landed the job?
Pay it forward! Keep your network active by making new connections, responding to other people's updates and look for ways to help other women in their search. You put in the work and landed a new job, and other moms can learn from your experiences.
---
Find your next opportunity with The Mom Project
Apply for career opportunities with vetted companies that support work and life integration. From startups to the Fortune 1000, inclusive employers of all sizes use The Mom Project to post job opportunities and find skilled, diverse talent.
Recommended Articles