Think about your needs and wants to find your career fit.
Throughout your career search, it can feel like you're the only one aiming to please. From job applications to interviews and thank you notes, there are so many crucial touchpoints for making a strong and positive impression with a potential employer. Looking for a new job can be exhausting and, with so much emphasis on getting to the finish line (that coveted job offer!), it's easy to lose sight of what's important to you.
It can be tempting to apply to everything and accept the first offer, but finding the wrong job can be stressful and overwhelming. And may cause you to start your job search all over again. We often forget that finding a new job is a mutual search. Both you and the companies you're applying to are looking for a match. They've thought about their needs and wants — but have you thought about yours?
Take a moment to contemplate what you value beyond your compensation:
Do I feel excited about the work I'll be doing?
How will my employer respect my life outside of work?
How do I like to be shown I am valued for my contributions?
Overwhelmingly, 83% of women say they would be willing to leave a job for a role that better supports their desired workplace criteria. So pursuing opportunities that align with your unique needs and personal preferences helps to ensure you're satisfied with your career decision after day one on the job. While there's no magic eight ball for your outcome, you can use insights gathered from throughout your job search to decide what opportunities you apply for and which one you'll choose to accept.
Ask yourself the following questions as you map out your next career move. You may not have a clear answer to each of them, but taking a moment to think about your preferences can help you decide where to focus your time and energy—and ultimately find a job that fits.
What type of work do you want to do?
There are a lot of factors beyond the job description to consider when thinking about your next career move—but at the most basic level, you should enjoy the actual work you'll be doing.
Maybe you have a straightforward career path in mind or are open to many different opportunities. If you're unsure about the types of opportunities you're interested in applying for, consider your personal interests, experience, likes (and dislikes) and write out your skills.
Keep in mind that even the same job title at different companies can carry a different scope of work. Take a hard look at the responsibilities outlined in a job description. Would you enjoy doing this work every day?
You should also ask yourself if you're a rockstar or a superstar. A rockstar has rock-solid expertise in their field and high satisfaction in their job role, but does not desire climbing the organizational ladder. A superstar, on the other hand, is a highly ambitious person that strives for continued growth and advancement. While companies need both kinds of high-performing employees to succeed, consider your desired career trajectory and how that fits into the roles you're applying for.
👉 During the interview stage, you can ask questions like "Where do you think I could add the most value in the first 30 days on your team?" or "What is the most urgent project you think I would contribute to as part of your team?" to get a better sense of what type of work you'd be focusing on day-to-day.
What does your ideal compensation package look like?
Whether or not your compensation is your top priority, budget and determine your salary range. First things first, calculate the minimum amount you'll need to get by. Then, think about what your ideal salary range is. And do your research to determine if that range is aligned with that of your ideal opportunity. Although salaries can vary greatly by company and location, it's a good idea to have a general sense of the average compensation for similar roles.
Compensation for a specific role may be listed in the job posting or disclosed in the initial interview. If the salary range isn't discussed in your first interview it's totally okay to ask about it—after all, you want to make sure there is alignment. Just make sure it's not the first question you ask.
👉 If compensation is included in the job listing, the number listed is typically the middle-point of the range budgeted for the role.
How does compensation factor into your other priorities and goals?
Consider how your compensation may factor into your priorities and goals. Are you willing to make any tradeoffs for more financial upside or greater opportunity? You may be willing to take on a more demanding role for higher pay. On the flip side, you may encounter a situation where you consider a lower-paying position, like taking a pay cut to pivot into a new field or join an up-and-coming startup.
There's no right or wrong answer here, but you should do a tradeoff analysis to make sure you have considered all of your financial and emotional needs as well as your personal priorities and obligations. Think about what you may be giving up versus what you may be gaining from the opportunity.
What type of benefits and job perks are important to you?
Put some thought into the type of job benefits and perks that are important to you and calculate how they might factor into your overall compensation. Receiving a 401K match, commuter benefits or stipends for things like weekly lunches or your cell phone plan can quickly amount to substantial savings—and may add up to a greater overall income than a higher base salary offer from another company.
👉 Benefits aren't typically discussed until an offer is extended, but you can use job review sites or the Company's Careers page to learn a little more about what they offer.
What is your preferred schedule and workload?
Determine your ideal workload and schedule. How much will you need to work and when will you be working?
Is that "perfect" opportunity really perfect for you if it requires more time than you feel like you can commit to—or offers less hours per week than you need to get by? Be realistic about what will work best for you and your budget. Are you at a place in your life where you can or need to work full-time? Or can you only commit to a certain amount of hours per week and need a part-time role?
You should also consider whether a flexible or set schedule is important to you. With a set schedule, you'll have a predetermined schedule with a set start time and end time. A flexible schedule will give you more freedom in determining your schedule week-to-week.
Take into account your weekly commitments and where you may have to make alternate arrangements (childcare or otherwise) to accommodate a new or frequently changing schedule, or longer working hours.
👉 You can set your scheduling preferences in your Talent Profile.
Are you open to permanent, contract or project-based work?
Weigh your work status options. Permanent roles offer more job benefits and security while freelance roles will give you the opportunity to explore new companies, vary your experiences and take time off in-between gigs (if that is something you can afford to do).
Permanent: You'll be joining the company as a full-time or part-time employee.
Temp-to-permanent: You'll be joining the company as a temporary worker with the potential opportunity to become a permanent employee after a certain period of time.
Freelance: You are considered an independent contractor and not an employee of the company. Contract or project-based work may be ongoing or set for a specific duration of time.
If you're applying for freelance roles, make sure you account for any employment taxes you'll be responsible for if you will be paid through a 1099.
👉 Freelance work can potentially lead to a full-time, permanent role but there are no guarantees and you shouldn't go into the interview expecting this conversion.
Where do you want to work?
Think about where you want to work. A remote role might be based in a satellite office or coworking space, or you might have the option to work from home. With a work from home remote role, you'll save commuting time, have more control over your own environment and can even get a few personal tasks taken care of during breaks. But keep in mind that you'll be working on your own and need to be extremely diligent about managing your own time. You should also make sure that you have a space in your home you'd be comfortable working in day-to-day.
With in-person work, you'll be joining your teammates daily at the company office. You'll be able to collaborate in-person and get more unstructured, face-to-face bonding time with coworkers. But you'll need to account for travel time and won't have as much control over your working environment.
👉 If you enjoy more flexibility in your routine, a mix of both is an increasingly common option and could be ideal for you.
What kind of company and team do you want to join?
There are many different aspects of a company that can impact your satisfaction on the job.
Size and stage of company
Does the size of the company matter to you? In a smaller organization, you may be expected to wear many different hats whereas in a larger company your role may be more specified. Do you prefer working in a smaller or larger team? For example, if you're looking to collaborate and learn more from others, a "team of one" role may not be the best fit for you.
You may also want to take the stage of the company into consideration. Companies with high-growth potential, like startups, can offer fast opportunities for advancement and the ability to quickly gain new skills and experience. But you'll need to be comfortable working in a fast-paced, often ambiguous environment where the scope of your responsibilities may change frequently. If you prefer more structure, a well-established company may offer more specificity, job security and clearly defined promotional paths.
Company mission
Think about the company mission because you'll need to get behind it. If you're specifically seeking a mission-driven organization or a company that aligns with one of your passions, you'll need to do more than communicate how you care about something—come to the table with specific and relevant examples of how your experience and skills translate into the company and the role. Conversely, you may be able to really get behind a company's mission in a less flashy space if they are solving an interesting problem, have a great team, offer unique or compelling perks or are building an incredible culture.
Company culture
What kind of company culture is important to you? Reflect on your own personal values and what you need in your working environment to feel safe, supported and satisfied.
Here are some factors you may want to keep in mind when assessing a company's culture:
Collaboration: Is the culture highly collaborative or individualistic?
Diversity, equity and inclusion: What is the company doing to foster a diverse, equitable and inclusive working environment?
Work-life integration: Are there active measures in place to support a healthy work and life balance?
Communication and transparency: How do teams work across the organization? How are decisions made and communicated?
Leadership: Is the organizational structure top-down or flat?
Professional development: Does the company provide opportunities for professional development?
Weigh if the values of the company are compatible with yours. And remember, actions speak louder than words: Seek out specific examples of how they embody their values and evaluate how they put them into practice.
For example, a company may claim "continued learning" as a value, but do they have an actual program in place to support that? Or perhaps a company touts that they're a "tight-knit" team, but are those relationships being built within the working day or primarily during after-hours events?
---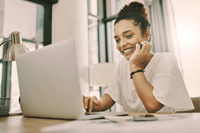 How to Assess a Company's Culture
Learn what to look for in the job search to see if the company culture is right for you.
---
Team values and dynamics
As you advance through the interview process, you'll likely have the chance to get to know your prospective manager and maybe even some of your future teammates and/or subordinates. Before you get the chance to interview with any of them, put some thought into what kind of team values and dynamics are important to you.
What do you need to feel supported, stay motivated and thrive? Get to know your future team by learning more about how they operate, work through difficult projects and navigate tough conversations.
👉 There are many different ways you can learn more about the type of company and team you'd be joining. Read reviews, seek out press mentions and thought leadership, and ask thoughtful interview questions to evaluate these factors.
Listen to your intuition
When you finally get to that job offer, listen to your intuition and don't ignore red flags. If it's not a strong yes, think about the impact of your yes. While every opportunity comes with its own challenges, consider what concessions you're willing to accept—as well as what you won't be able to ignore.
Evaluating your needs and preferences, conducting research to decide what roles to apply to and where, and learning more through job interviews and additional research will all help you determine if an opportunity fits. In the end, having a greater sense of confidence in your success and happiness in a role is a worthwhile investment in you and your future.
---
Find your fit with The Mom Project
Join The Mom Project to create your talent profile and browse career opportunities from vetted companies that support work and life integration.
Recommended Articles