Going virtual? Learn how to ace your next video interview.
A virtual interview is much like an in-person interview but conducted remotely using video conferencing technology or other virtual communication platforms. But adding technology to the mix (and without the face-to-face interaction most people are used to), there are some special considerations you'll need to prepare for to ace your next virtual interview.
If this all feels a bit overwhelming — don't worry! There are several ways you can leverage the technology and medium to your advantage.
Maybe this is your first virtual interview or you're just looking to brush up on some best practices. Wherever you are in your journey, we're here to help you shine.
Dress for success
Wearing professional attire is not only expected — it will get you into the right mood and mindset, and boost your confidence! Although you will be interviewing remotely, the major rule of thumb is to dress as though you are going for an in-person interview at the company's office.
Whether you choose to dress more business formal or business casual should be determined by the type of company you are interviewing with. If the company is more corporate you may want to go with a more conservative color scheme (think black, navy, grays, pastels or earth tones). Is the company more progressive? Consider some brighter pops of color if that's more your style. Note that v-cut tops can look dramatically deeper on the camera depending on your angle, so consider a higher neckline or undershirt. How you choose to wear your hair is your personal choice.
Concerned about the glare from your glasses? Don't be. It's already a high pressure situation, so if you're more comfortable in glasses it's okay to wear them. With the rise of remote working, people are accustomed to seeing reflections in glasses. You can also try turning down the brightness of your monitor to help with the glare.
You'll want to position your camera so that it captures your face and part of your upper body, so you have more flexibility with what you wear from the waist down — just make sure you wear something more than your undergarments below!
Whatever you decide to wear, confirm that you'll be able to sit comfortably in the temperature of your chosen location throughout the duration of the interview.
👉 Use your camera to test how your outfit will look on-screen and make any adjustments as needed. Face powder or oil-absorbing sheets can also help minimize on-screen shine.
Minimize distractions
If you have pets, children, roommates or other family who will be at home during the video interview, do your best to ensure they won't make a surprise appearance. And don't forget to turn off any phones, alarms or toys that may make noise in the background!
Do the requested interview times conflict with your childcare schedule?
If you're interviewing for a role through The Mom Project we've got you covered with a $75 babysitting credit through UrbanSitter that you can use for your time during the interview. While every effort should be made to accommodate an interview request, if you can't make alternate arrangements (for childcare or otherwise), courteously state that you're not available and provide your availability as soon as possible.
What if my child/pet/other crashes the interview?
You can make all the backup plans in the world but sometimes these plans fail. It's okay. Let the interviewer know at the onset of the interview that you're at home and, while every effort has been made for the children and/or pets to be out of the interview, distractions may happen.
If it does happen, acknowledge it, do want you can to minimize your adorable distraction and move on. Your interviewer should understand (if not, you may want to evaluate if the company is right for you.) Ask for a quick moment if you need to regain your composure or maneuver your little one, and mute your sound if you do so. Remember—you've got this! You can also momentarily turn off your camera if you need to (just don't close out of the application completely.)
Set up your space
Find a clean and well-lit space with little to no distractions and background noise for your interview. If you don't have a dedicated office, consider using your dining room table or kitchen countertop. You can also create a makeshift space with a chair and table in a quiet area, or improvise a tall dresser as a standing desk if you prefer to stand! You'll want a space where you can position your camera at eye level or slightly above, so avoid laps or couches.
Ideally, you should point your camera at a blank wall or a minimal background that won't cause distraction (like a bookshelf). It's okay to show a little bit of your personality or decor taste but be mindful as to what personal details you are sharing in the background.
👉 Wherever you choose to conduct your video interview, tidy up your surroundings and use your camera to test what will be seen in the background.
Find your optimal lighting
Your interviewer wants to see you! Dark spaces and shadows can be distracting and obscure your facial gestures and body language. Find a space where you can keep your major source of light in front of you. Natural lighting works best, so look for an area that faces a (non-distracting) window if possible. Keep the window shut to drown out any outdoor sounds. Avoid sitting in front of a window, which can make you look like a silhouette.
If natural lighting isn't an option for you, that's okay! Do your best to mimic the look by placing your major source of light in front of you with some additional lighting from overhead. Re-arrange a few lamps if you have to. Ring lights can also work wonders if you, a friend or family member has one.
👉 Check how your lighting looks before your interview so you can make any adjustments if you need to.
Test your equipment
Whether they're in your control or not, technology issues can negatively affect how you are perceived by the interviewer. However, there are a few things you can do to help fool-proof your video interview.
For most people, a laptop or desktop computer generally works best for virtual interviews, but you can also use a tablet or cellphone.
First, test run your technology a few days beforehand and the day of. Find a friend or family member who can help you with technology if you need to. Make sure you have a strong internet connection and confirm that your video and audio are working properly. Check that your device's camera lens is clean and pointed in the right direction. Download or open whatever platform you will be using to participate in the virtual interview on your chosen device and any backup devices at hand.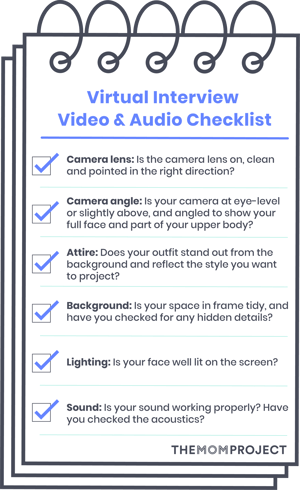 Conduct a practice run
Once you have your technology set up, schedule a practice run ahead of time with a friend or family member.
Video conferencing platforms, such as Zoom, Skype and Google Meet, are all a little different so conduct the test run on the account you will be using during your virtual interview.
Once again, see what your camera is picking up in the background and test out how the acoustics sound. Hardwood or tile floors may work for you if you have a softer voice or trouble projecting but they may be too echo-y for others.
You can also use this time to practice answering interview questions as well!
Lost connections
Backup devices like a spare desktop or laptop, tablet or cellphone can also be helpful in case anything goes wrong on your main device during the interview. For example, if your wifi goes down you can use your cellphone data or set up a hotspot. Make sure you have access to the interview invitation and platform should you need to quickly switch devices.
If you lose connection in a virtual interview and can't reconnect, send an email and explain how you tried to rectify the situation. Provide your phone number and offer to continue the interview over the phone.
👉 Don't forget to charge your device (and any other backup devices) before your interview!
Be prepared
Do your homework! Make sure that you have carefully read through the job description and can relate to the role's responsibilities. Think of specific examples in your past experience that correlate with the experience and skills stated in the job description.

Find out what you can about the company and person you are interviewing with. Read through the company's "About Us" page and browse through some of their recent news articles. Use LinkedIn to look for the profile of the person you are interviewing with and prepare relevant questions about their responsibilities, the team and so on.
Think about and practice your pitch and prepare for common interview questions. Compose a few thoughtful questions for the interviewer and keep them handy. When crafting the questions, consider where you're at in the interview process and who you are speaking to. For example, you wouldn't ask about benefits in your first interview (unless your interviewer brings it up first), and you wouldn't ask the HR person about the Marketing team's culture (but you may ask them about the company culture at large).
When you're ready to start your interview, enter the meeting about five minutes early so you don't leave the interviewer waiting and can settle in. You don't have to turn on the camera or audio until they arrive but you should be logged in.
📖 Read more: How to Answer "Tell Me About Yourself" in an Interview
Communicate with confidence and authenticity
As with any interview, it's important to be professional, genuine and showcase your confidence. With virtual interviews, you'll want to be especially mindful of how you enunciate and project because your audio may not always be clear on their end.
Use your body language to project positivity and professionalism. Wave hello, smile when appropriate and sit up (or stand) straight. Stay engaged throughout the conversation by maintaining eye contact with the interviewer. To do so, you'll want to adjust your camera at eye-level or slightly above and keep your eyes focused on the camera when you can. The camera (not the screen image of the interviewer) is what will be perceived as "eye contact" virtually. Just like your body language, stay positive with your responses! Don't talk negatively about a previous employer, colleague or manager.
Act natural
It's totally normal to feel nervous before your interview and that's okay! Try speaking out loud, sing a song or watch your favorite funny video for some giggles beforehand to loosen up (before you log in to the meeting, of course!).
You should absolutely be prepared but there's no need to memorize your answers — you don't want to sound scripted or robotic. Focus on remembering the key points you want to make rather than the exact statement itself. Practice with friends or family members if it helps make you feel more comfortable.
Have your interview notes, questions and resume nearby on paper or up on a second monitor screen so you can reference them when you need to. You don't want to lose your focus by clicking around during your interview! Let the interviewer know you may be glancing down occasionally to reference your materials so you don't come across as distracted or bored. You can even place a few sticky notes around your monitor screen if you'd like. If you want to take notes during the interview, do so on paper because typing can be distracting.
👉 In addition to your notes, have a glass of water nearby in case you get thirsty or your throat feels dry.
Get comfortable with pauses
Always let the interviewer finish their question before you answer. You don't want to cut them off. Taking a quick pause after a question or statement helps with technology lags to make sure the interviewer is done speaking and can help you better process your response. Use the brief pause to offer clear and concise answers.
Wrapping up the interview
If you have time to do so, or are prompted by the interviewer, now is the time to ask any final questions you may have. If the interviewer hasn't shared the next steps of the interview process, be sure to ask about them before ending the conversation. At the end of the interview, wrap up by thanking the interviewer for their time, voice your interest in the position and let them know that you're excited about the opportunity.
Say thank you
Send a follow up message via email within 24 hours of your interview. It's not only polite — it can give you a competitive edge. We've spoken with hiring managers whose decision ultimately fell on who sent a thank you note if they were between multiple candidates.
Thank the interviewer for their time and express your appreciation to be considered for the role. This is your last chance to say anything you didn't get to say, redefine anything you want to make sure sticks and reiterate your enthusiasm for the job.
Keep your message short and sweet. Generally, 2-4 sentences are enough to get your main message across. You can send your message to your contact at The Mom Project if you don't have the interviewer's contact information and we will pass it along to the hiring manager.
📖 Read more: Writing the Perfect Post-Interview Thank You Note
Conduct a personal debrief
Yay! You finished your virtual interview. First of all, acknowledge how amazing you are and celebrate this milestone. Let out a deep breath if you need to.
Then, take some time to think about what went well and what you'd like to improve on. Instead of thinking about what you did wrong, think about what you can do better next time. Remember that your job search is a journey, and each step of the way is a learning experience.
Preparation and follow-through is key
You'll be ready to succeed in your next virtual interview by taking the time to prepare yourself, your technology and your environment. Maximize your success (and effort!) by sending a brief thank you message to the interviewer and embracing any lessons learned to sharpen your interview skills. We're rooting for you!
▶️ Watch: Get more virtual interview tips with The Mom Project's Unity Hour - How to Ace a Virtual Interview featuring career coach Crystal Ohikhuare!
Give and get support throughout your career journey
Search for family-friendly jobs, connect with like-minded professionals and access career development resources with The Mom Project.
Recommended Articles