Great work, you've landed an interview! Whew. Take a moment to celebrate because this means your resume and cover letter or "Why Me" statement stood out enough to grab the attention of the recruiter or hiring manager. And that's no easy task considering that most recruiters only spend about 8 seconds reviewing each application.
Now that you've landed the interview though, how can you set yourself up for the next step of success? This interview guide will walk you through the basics from first interview to final, including phone, virtual and in-person interviews. Preparation is the key to putting your best foot forward. Here's how to get started.
Jump to:
Interview Quick Start
Need to ramp up quickly for an interview? Here's a few key to-do's you'll want to check off your list before the big day.
Further research the company to refresh your knowledge: Check the "About" page on their website and their social media accounts to get a feel for the company.
Review the job description: Read and reread the job description, paying close attention to the skills and experience they're looking for. Prepare a few specific examples of how your experience and skills relate so you can speak directly to those points.
Revisit your "Why Me": Get familiar saying your "Why Me" statement out loud so you can respond when the interviewer asks you to tell them about yourself.
Ready yourself: Whether you're doing an in-person or virtual interview, choose an outfit that's as formal as or one step up from the office dress code. Go for minimal makeup and whatever hairstyle you feel most confident with. If you're interviewing virtually, find a quiet, distraction-free space to talk.
What type of interview are you preparing for?
Top tips for every type of interview
Familiarize yourself with the job description and think of specific examples from your work experience that demonstrate the skills they're looking for

Smile and show enthusiasm. Even if you're on the phone, your smile makes a difference in how you are perceived

Be prepared to answer questions about your desired schedule and salary requirements

Follow up with a thoughtful thank you message via email within 24 hours
---
Preparing for your interview
Now that you've scheduled a time to talk, it's time to begin preparing for your interview, whether it will be on the phone, in-person or virtual. You'll want to give yourself at least a few hours to research the company and the role and practice your interview responses.
Confidence is key in impressing your interviewer. By practicing ahead of time, you can deliver straightforward answers naturally and share specific examples of your experience.
Research the company
Before you applied, it's likely you did a bit of company research. Now that you're interviewing, it's time to learn everything you can about the company so you can identify ways that your experience will directly benefit them.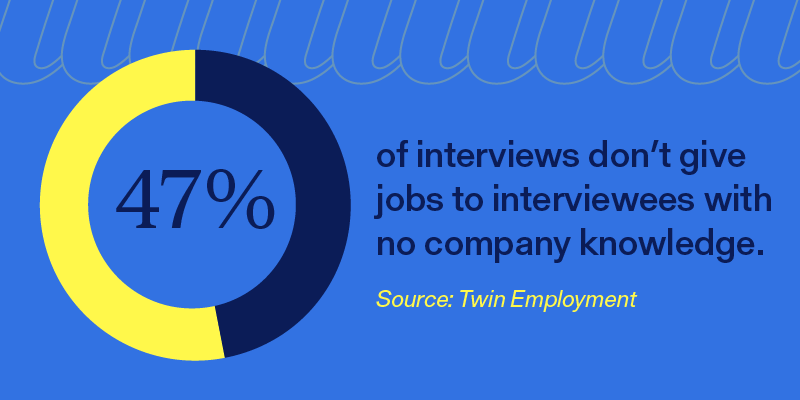 Employers want to hire candidates who show excitement for the company and role, so it's no surprise that 47% of interviewers don't move forward with candidates that haven't done their research. Don't make this mistake!
Learning about the company by checking their:
Newsroom and press coverage
Blog posts
LinkedIn updates
Social media accounts
About and Team pages on their website
Glassdoor reviews
---
💡 How to Research a Company You're Interviewing With
Before your interview, it's time to research the company and learn everything you can about their mission, business practices and company culture. Read more
---
Don't forget to research the interviewer
If you know specifically who you will be interviewing with, take a look at the person's LinkedIn profile or their bio on the company website. By getting to know a bit about your interviewer, you can identify any common connections or experiences that will help you build rapport.
💡 If you learned about the job through a referral, consider asking your referring contact if they have any knowledge of the interviewer or the company that could be helpful.
Highlight your personal brand
Personal brands aren't just for influencers! Professionals can have a personal brand, too. And having a strong sense of your personal brand can help you stand out from other candidates.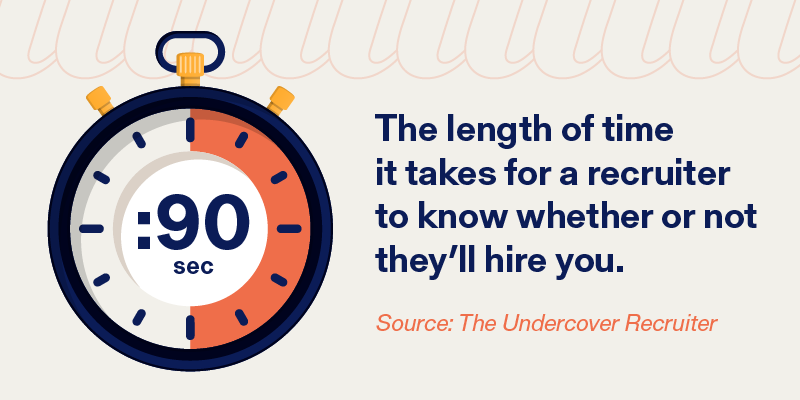 A personal brand helps you make a memorable impact by bringing together:
What you love
What you're good at
Your values & purpose
Make it happen

📖 Read Owning Your Personal Brand
Questions to expect during your interview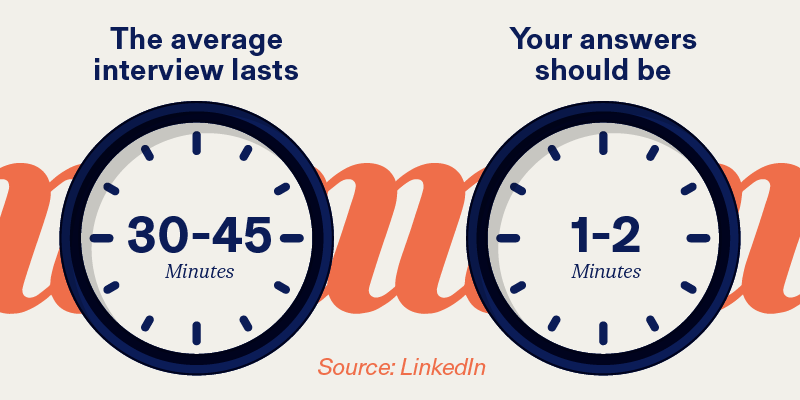 It's no secret that interviewers love to ask many of the same common interview questions. This is great news for candidates like you, because you can prepare in advance for these questions.
Common interview questions generally center around 3 themes:
1. Tell me about yourself: Develop a strong elevator pitch that sums up your experience and the unique talents you offer.
2. Tell me about your experience: Your "Why Me" statement is a great way to summarize your experience and provide an example of your results and value.
3. Tell me about a challenge: Prepare a few memorable career stories that show how you solved a challenge.
Use career stories to answer questions
Responding to an interview question about experience or challenges by providing a specific career story is more impactful than simply agreeing that you have a certain skill or can overcome a challenging situation.
Career stories are notable moments that highlight who you are (your personal brand) and what you have accomplished. They have an introduction, incident, stakes, action and resolution. It looks like this: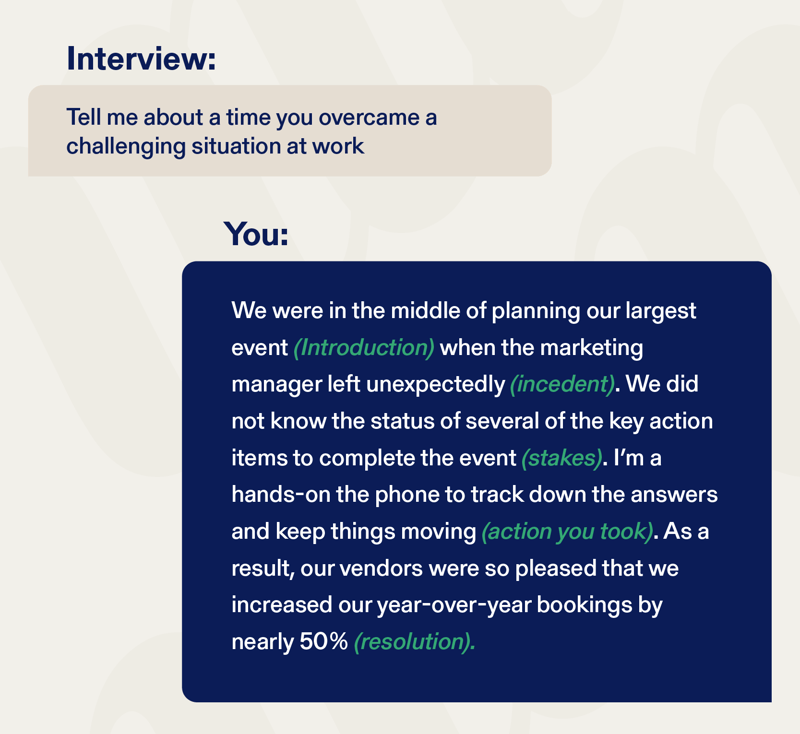 Focus on your achievements
Often, it's easy to focus on responsibilities when creating your resume bullet points and summing up your experience. Sharing a list of responsibilities isn't compelling to an interviewer, but an achievement is.
An achievement is the result you produced from successfully doing a responsibility. Focus on achievements with quantifiable results because numbers help you stand out. If you don't have hard numbers or data to share, that's okay! You can choose powerful words to describe the impact you made.
"You can use words like 'increased,' 'decreased,' [and] 'supported' to talk about the impact of your work." - Ashley Cash, interview and resume expert
Re-review the job posting and write down any specific examples you can think of that tie your achievements back to the responsibilities of the role.
📖 Read more: Rethinking Your Resume to Highlight Your Accomplishments
Anticipate less conventional questions
"If you could be any animal, what would you be and why?"
Some interviewers like to shake things up with an oddball question. When you're faced with a less conventional question like this, don't get flustered!
The interviewer doesn't really care what animal you'd be or what you'd title your autobiography. Don't focus on the literal question from the interviewer. Instead, consider what the interviewer is actually trying to assess. It's likely something like your creativity, problem-solving or leadership abilities.
When you have a career story for each of your top skills, it's easy to use one of these examples as a framework for your response. These wacky questions let you add in some of your own personality, too, which is a great thing! Are you cool under pressure, are you witty, are you at ease? The way you field an unexpected question can be just as important as your actual response.
Be prepared to talk about salary
It's likely that the salary question will come up in your first interview, especially if it's a phone screening. Respond first by asking the interviewer what the salary range is, and if you're pressed to answer say something like: "Based on my experience, $75,000-$90,000 is a competitive range for a role like this depending on several factors like benefits and work schedules."
This sets an expectation without locking you into a number before you know more about the position.
📖 Read more: How to Determine and Communicate Your Salary Range
Questions to ask during your interview
Often, interviewers shift the focus to answering your questions before wrapping up the meeting. These questions are another opportunity to stand out! Be sure you have prepared a list of 10 or so questions you can ask, just in case you end up covering a few topics earlier in the interview.
A note about priorities
Before starting your career search, you likely made a list of goals and priorities for your next role. It's time to revisit that list so you can tailor your questions at each stage of the interview process to find out how a company aligns with your priorities.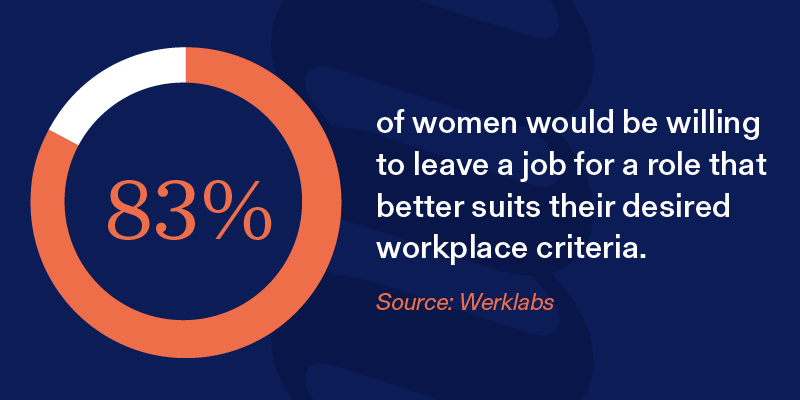 ✏️ Outline your goals:

Downlosd our Job Search Goals checklist to track your goals
📖

Read more:

Questions to Ask at Each Interview Stage
Feel confident in your asks
If you're coming back to work after a pause, entering the workforce as an older candidate or making a career change, or simply uncertain of a company's take on mothers, it can be scary to ask questions about flexibility and family support.
Embrace your inner advocate, and make the ask! Employers are starting to acknowledge the benefit of moms in the paid workforce. Every interview you have is an opportunity to showcase your personal brand and how you balance career and motherhood. These conversations slowly turn the tide for mothers everywhere, even if you don't land this particular role.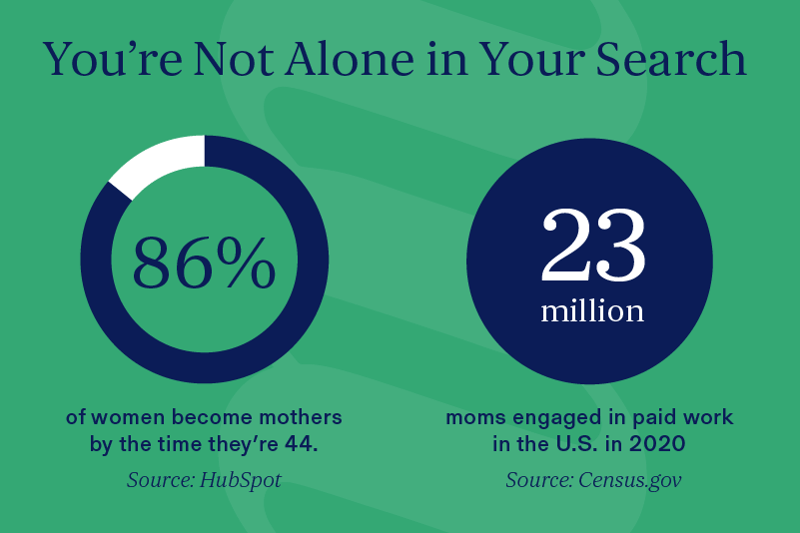 Women return to paid work for a huge variety of reasons. In fact, many of the drivers for mothers returning to paid work are not financial at all.
📖 Read more: Finding a Family-Friendly Employer
Your desire to show up in your career and your family life is valid. When moms re-enter the workforce after a pause, they tend to take a more holistic approach to choosing a role and an employer. Moms expect employers to deliver on their promises for work-life integration.
Timing is important
In interviewing, timing is everything. It's essential for you to ask the questions you need in order to fully evaluate the role's demands on your time, the growth opportunities and the expectations. However, asking too soon or in the wrong way can give interviewers the wrong impression, like that you're focused solely on compensation and benefits and not on integrating with the team.
📖 Read more: Stand Out During Your Interview by Asking the Right Questions
It's all in the delivery



It's important that you ask questions about your non-negotiables - things like schedule flexibility, the option to work from home, health benefits or additional benefits like childcare and tuition reimbursements. The delivery of these questions is important. Structure your questions to impress the interviewer with your knowledge of the company and your experience while setting them up to answer your true question.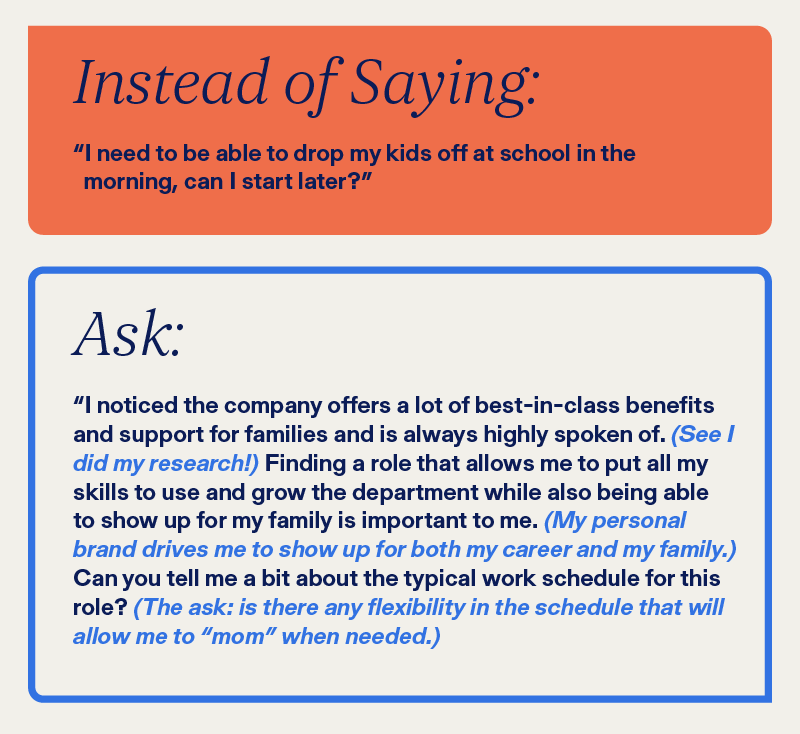 A note about contract and project-based interviews
If you're interviewing for a temporary, contract or project-based position, you may want to modify your line of questioning a bit. Because these roles are temporary, the focus is less on how you can help the team long-term and more about how you can provide support at this moment.
One pet peeve of many interviewers is interviewees who ask frequently about the likelihood of these jobs becoming full-time roles. Realize that at this moment, the company needs immediate support for specific tasks. While there's always the possibility they will love your work and offer you something full-time, the immediate focus of your interview should be on discovering how to be successful now.
If you're concerned about a role that's exclusively project-based or has a short-term commitment, get a feel for the average tenure of the other employees. If other employees started in contract positions, the interviewer will likely offer that information up as they answer.
You can position this question from a place of understanding how you can best support the team: "As I step into this temporary role for you, can you give me an idea of the team structure and the experience within the team?"
📖 Read more: Freelance Work Guide
Watch out for inappropriate and illegal questions
There are some interview questions that are inappropriate and others are flat out illegal. Having a sense of these is important because if one is tossed your way, it should raise a yellow flag.
We say yellow because maybe the interviewer is unaware that what they're asking could be construed as discriminatory or illegal, so don't immediately count the employer out. But do take note, and if similar themes continue to emerge in this interview or others, it's a good indication that the company culture may not be the right fit.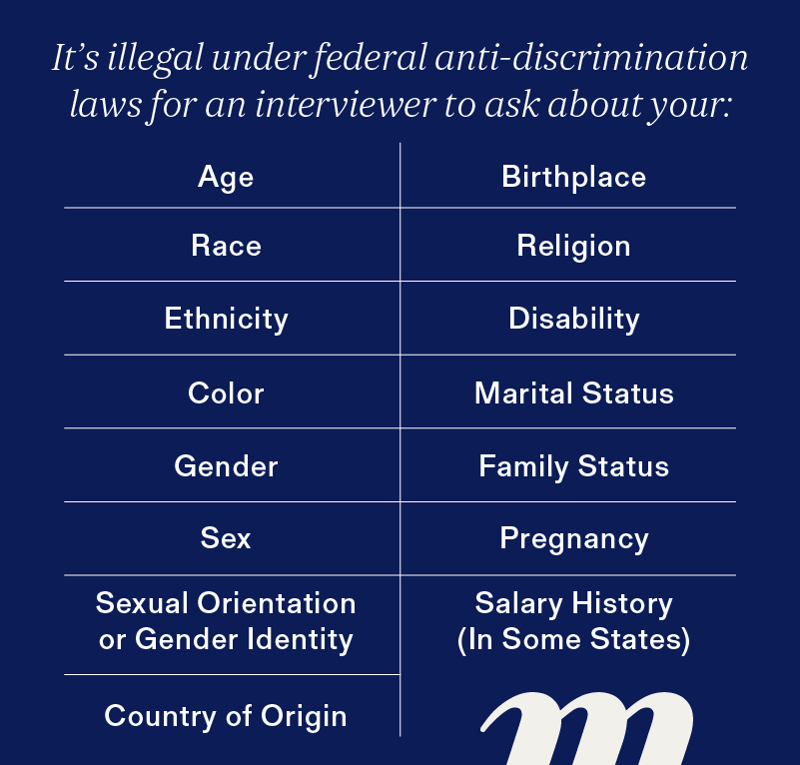 Interviewing while pregnant
Legally you're under no obligation to disclose your pregnancy, and it's illegal for an interviewer to ask if you're a mom (or mom-to-be). However, if you're noticeably pregnant it will be the elephant in the room. Even if you're not yet showing, it's wise to make a plan for sharing and advocating for your pregnancy and impending maternity leave.
If your pregnancy comes up in the course of the conversation, the employer can then ask follow-up questions. Keep it simple: "Yes, I'm expecting a baby in this many months, and plan to be back to work right after my leave. I'm excited to join the team in this role because I can…" and bring the focus back to your value.
---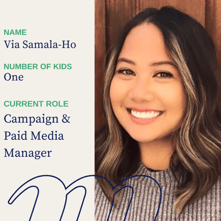 Talent Spotlight: Via Samala-Ho
Via's journey at The Mom Project began when she joined Etsy's Global Communication and Engagement Marketing team through The Mom Project. As part of Etsy's maternityship program, Via stepped in to support a new mom at Etsy, who was on maternity leave. Via was able to work with a company that understood her needs as a working parent while also being able to help out another new mother. Read more.
It's important to remember that you're no less valuable of a candidate just because you will be taking maternity leave within the first part of your employment. Your job is to show the employer that the overall value of hiring you is far greater than the downtime you'll experience while you're on maternity leave. And the employer's response will be a great indication of how family-friendly they really are.
Even if you're not ready to disclose your pregnancy just yet during the interview process, be sure to ask the interviewer general questions about things like:
Parental leave policies
Health benefits and coverage for families
Childcare stipends
Flex schedules and remote work opportunities
📖 Read more: Interviewing While Pregnant
Discussing other sensitive work-life events
Explaining a career pause in your interview
Moms often feel the need to defend the time they've spent out of the paid workforce to care for their families because of the stigma that this means they aren't serious about their career.
When discussing your experience and any pauses there may be, it's important to celebrate this pause and provide additional context of how it has positively impacted your professional journey and the skills you've honed.
It's likely the interviewer will begin by acknowledging the gap in your professional experience and inquire what you were doing during that time. Be prepared with a positive answer:
"I took a five-year pause to care for my children and home life and am eager to reenter the workforce with the same focus and dedication I applied to my family recently, as well as in my last professional role."
When discussing your career pause in an interview, be prepared to:
Acknowledge it
Shift the focus back to your experience and qualifications
Emphasize any skills or experience you gained during the pause
📖 Read more: How to Explain Your Career Pause
Reframing job hopping
It's common for moms to have several short tenure jobs listed on their resumes if they have side hustles, contract work or temp work experience. Use an umbrella approach to explain this type of work history. Position yourself as a consultant taking on multiple clients.
If your resume has several traditional roles in a short period of time, you can still put a positive spin on this. Begin by being honest and sharing your reasons (or some of them!) for moving around. Did you change positions in order to gain more experience and increase your seniority? If your family was a driving factor, what specifically pushed you to move into new roles - flexibility, health benefits, a better salary?
Wrap up your explanation by putting the interviewer at ease that you're interested in a long-term commitment. Say something like: "My hope is for my next move to be long-term, at a company where I can continue to advance my career in-house."
📖 Read more: How to Address Job Hopping in an Interview
Discussing your previous role… when it was less than ideal
Most people have had at least one role or employer that wasn't great. When you're moving on, it can be tricky to explain why you're leaving without bad-mouthing your previous employer.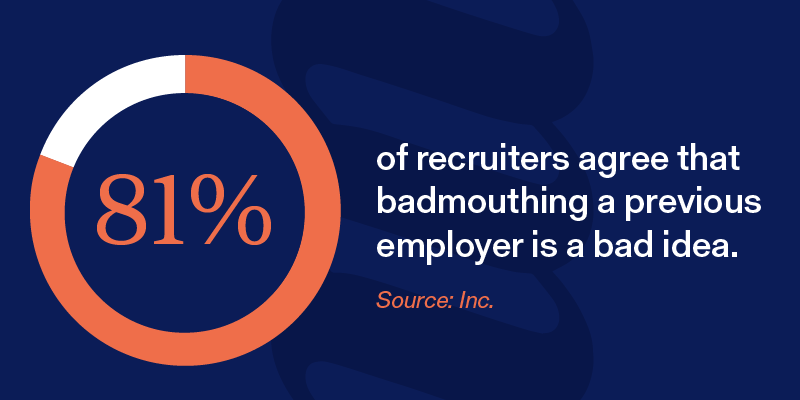 View your resume as a compilation of your professional experience. Even if a specific employer was less than ideal, you still gained experience you can bring to a future role.
And look ahead, not back. Pivot the conversation to how you're looking for new opportunities to use your skills in a fresh way and gain new ways. That way, the conversation is more about your experience than your feelings about your previous role.
📖 Read more: How to Talk About a Job You Hated During an Interview
Preparing for different types of interviews
Preparing for an in-person interview
Once you've familiarized yourself with the company and the interviewer and have prepared your answers to some of the questions you may be asked, it's time to get ready to show up… literally. In-person interviews are a great opportunity to observe the company culture in action, too!
Before your interview:
Do a test-run of your entire outfit (yes, even the shoes!) and check for any gaps, rips, unflattering fits or discomfort that might distract you from your interview.
Map the route to the interview location several times throughout the day to monitor traffic trends and plan your departure time. Plan to arrive at least 15 minutes early.
Schedule a sitter in advance. If you're interviewing through The Mom Project, you can take advantage of our partnership with UrbanSitter to get a

$75 babysitting credit

to use during your interview.
Pack a personal tote to carry into the interview with your wallet, personal items and copies of your resume and value portfolio.
Pack an emergency kit for your car with a stain stick, oil-absorbing sheets, deodorant and breath mints.
📖 Read more: How to Prepare for an In-Person Interview
Preparing for a phone interview
Chances are your screening interview will be held over the phone. Depending on the interview process, your first interview may also be on the phone. Just because you don't have to worry about all the extra details an in-person interview entails, don't overlook the importance of preparing for a phone interview.
You'll want to:
Find the right location
Remove all distractions
Charge your phone and turn alerts on
Smile! It comes through even on the phone.
✅ Review: Phone Interview Checklist
Preparing for a virtual interview
Zoom calls are the norm now for distributed workforces, and they're a great tool for interviewers who want to meet face-to-face without being in-person. If you're interviewing for a position in another city or state, you'll likely be doing a video chat.
Plan to:
Dress as though you were meeting in-person
Find a well lit, quiet area to do your interview from
Set up your space with your laptop or iPad and make sure all your devices are charged just in case you need a backup
Position your camera at eye-level or slightly above
To boost your confidence and make a great first impression consider a laptop riser to keep the interview at eye level and a circle light. Both items can be found online at a reasonable price.
📖 Read: How to Prepare for a Virtual Interview

✅ Review: Virtual Interview Checklist
Practice your delivery
No matter which type of interview you are doing you should always practice your answers ahead of time. In addition to practicing your verbal responses, beware of for non-verbal habits that flare up when you're nervous. Start your introduction with a firm handshake if you're meeting in-person, maintain good posture, make eye contact and keep your fidgeting to a minimum (even if you're interviewing over the phone).
If you're interviewing on the phone or a video call, it's important to wait for your interviewer to finish their question before beginning your response.
Speak slowly. In high stress situations it's easy to lose your train of thought and begin rambling. By running through your answers ahead of time and thinking of examples you can share for each of your skills, you can rely on your practiced answers.
Sharing your value portfolio in a job interview
In your interview, it's your job to convince the interviewer of the value you can bring to the company if you're hired. Creating a value portfolio helps you organize your experience and career stories in an easy-to-understand format.
Your value portfolio can include:
Testimonials from happy clients and co-workers
Key results you've driven
Scope overview and increase
Certifications and training
Rather than walk through your value portfolio word for word, use it as a loose outline. If you're interviewing over the phone or virtually, you can use it as your own personal outline of examples you can share. If you're meeting in-person, you can print your portfolio, place it in a folder with a copy of your resume and leave it with the interviewer to review fully later.
---
Nailing the interview follow-up
High fives! You made it through your interview. The interviewer likely has at least a few other interviews scheduled for the same position, so it's time to seal the deal with your follow-up.
Send a thank you note
Aim to send a thank you note within the first 24 hours after your interview. In today's digital age, a thank you email is completely acceptable and the preferred medium for most interviewers. If you do not have the interviewer's direct contact information, send your note to the recruiter to pass on.
📖 Read more: Writing the Perfect Post-Interview Thank You Note
Add a link to your value portfolio
In your thank you email, you can include a link to the digital version of your value portfolio so the interviewer can refer back to it. Even if you met in person and left a physical copy, you should follow up with a link. This makes it easy for the interviewer to pass your great work on to other decision makers in the hiring process.
If you're interviewing for a creative role or looking to join a hip company, consider taking your thank you one step further with a video. Create a 30-second private YouTube video and send it as an email follow-up to thank interviewers. Remember to practice, watch it yourself before sending it and smile. This may help to set you apart from your competitors.
What's next?
That's it! You've prepared, interviewed and sent a thank you. Now, the hardest part: waiting for a response. Be sure to ask your interviewer what the timing is like for their next steps. Generally they'll have a loose idea of when they'll be calling candidates back and when they'd like to make a decision.
If you haven't heard anything back within the first business week, send a brief email follow-up to your contact checking in on the status of their search. You can:
Re-express your interest in the role
Offer to set up a quick call if there's anything they'd like to discuss further
Thank them again for their consideration
If you're invited back for another interview, complete these essential interview steps again! Review all you learned about the company, get to know the new interviewer by checking their digital footprint and prepare a new set of questions tailored to the new contact. If you're working with a recruiter, ask for any feedback from the employer and prepare to address any of their comments or concerns.
Your experience impressed this company enough to schedule an interview, it will open other doors, too. Reflect on your interviews and look for ways to better present your experience, share your career stories and use your questions to learn more about the opportunity. You'll have an opportunity to use this knowledge again!
---
Find your next opportunity with The Mom Project
Apply for career opportunities with vetted companies that support work and life integration. From startups to the Fortune 1000, inclusive employers of all sizes use The Mom Project to post job opportunities and find skilled, diverse talent.
Recommended Articles