Welcome to The Mom Project! Whether you're searching for your next opportunity, looking to give or get career guidance, or just getting started, you're in the right place.
Our mission is to connect talented professionals like you to fulfilling job opportunities that fit into your life. As a member, you get access to job opportunities from vetted, family-friendly companies, tools for your career search (and beyond), and a community of like-minded professionals.
Who is The Mom Project for?
The Mom Project is for moms, obviously. But not just moms. We're committed to working together to build a better workplace for all. We support dads, caregivers, women, men—really anyone who identifies with our mission and wants to be part of this vibrant community.
How does The Mom Project work?
The Mom Project offers career resources and job opportunities with companies that support work and life integration. From startups to the Fortune 500, employers of all sizes use The Mom Project to find skilled, diverse talent for a wide variety of opportunities including remote, part-time and full-time, permanent, and contract roles. We partner exclusively with companies that not only understand but also believe in the value that moms and caregivers bring to the table.
We are not a recruiting agency and therefore do not place talent directly into roles but we'll be rooting for you along the way! If you're looking to find your next job opportunity with The Mom Project, follow these steps to get started:
1. Complete your Talent Profile
Complete your Talent Profile by adding your experience, skills, and work preferences. It's important to be transparent about your needs and preferences so we can send you the most relevant job alerts. The more complete your profile is the better your matches will be!
2. Check your inbox
New opportunities are added to The Mom Project daily. We'll send you job alerts for new roles that match your Talent Profile so you can apply right away. You can also proactively search for new opportunities through the Jobs.
3. Apply to opportunities
Apply to any opportunities that feel like a good fit for your work experience, preferences and career goals. You will be updated if an interview is requested, if you have not been selected to move forward or when the opportunity has closed. You can also manage your job applications and check for status updates in your Talent Dashboard under Applications.
Getting the most out of your experience with The Mom Project
We are here to help you identify your next career move—whether that is through our Marketplace or elsewhere. And we are excited to be on your side as you make your way through the process!
Here's how to make the most of The Mom Project:
Complete your Talent Profile to 100%
Completing your Talent Profile is one of the easiest ways to increase your odds of success—applications with completed profiles are 10x more likely to get noticed by employers! Parts of your profile are visible to employers and this information helps to enrich your story by providing more context into your experience, skills, and work preferences.
Your profile is also vital to your job alerts. We'll use this information to fine-tune your matches so you don't miss out on any new opportunities that fit your skill set, work preferences, seniority level, and desired compensation. Plus, your completed profile helps our internal team identify you as a potential match for roles we are actively supporting.
📖 Read more: Completing Your Talent Profile
Tailor your job application to each opportunity
Because different roles emphasize different skills, you should tailor both your resume and your "Why Me" statements to each opportunity you apply for. A powerful "Why Me" statement is an opportunity to shine in a sea of candidates and shouldn't be overlooked.
Having your materials prepped ahead of time will help make this a smooth process. Create a few different versions of your resume and "Why Me?" statements based on the most common jobs you're applying to. Then you can use the one most similar to the position and will only need to make a few final tweaks before clicking submit.
📖 Read more: Answering "Why Me?" on Your Job Application
Take advantage of the free programs and resources offered
The Mom Project is so much more than jobs. And everything we have built is designed with your success in mind. While we don't offer one-to-one career coaching or resume reviews, we partner with some of the best experts in every area to develop resources that will help you drive your own growth.
Our job search and career development tools are here to support you through each step of your career journey—at no cost to you, ever.
📝
Get career guidance in The Study
Careers come with lots of twists and turns, everything from navigating maternity leave to returning to work after a career pause. You can find resources to navigate your job search, working motherhood, professional development, and more in The Study.
From getting started in your career search to advocating for a promotion, creating a maternity leave plan to managing work-life integration—we cover a wide range of topics that are here any time you need them.
You can also head over to our blog where we're discussing recent news and sharing member musings.
✉️
Join us at virtual events
The Mom Project hosts regularly scheduled events and virtual workshops with in-house and guest experts that cover topics on work, parenting—and everything in between. RSVP to tune in live or receive the event recording.
And if you're looking to learn more about The Mom Project, connect with our team by attending an Office Hours session to get more tips, tricks and answer all of your questions about getting started. View all upcoming events
🛠️ Build your resume with Resume Rev
Complete your profile to generate a beautifully formatted, downloadable resume to use throughout your job search with Resume Rev. This tool allows you to create a resume that reflects who you are as a professional and a person.
💪 Level up with RISE
RISE is a scholarship program committed to accelerating equity for moms of color. The program provides access to upskill certifications while harnessing the power of community, support, and job placement—all in as little as three months and at no cost to participants.
🙌 Give and get peer-to-peer support
Looking for a supportive ear from a mom who's already traveled your road? Have a wealth of knowledge to share about your field, flexibility, and finding your purpose? Get matched with a fellow member to connect for advice, support and to cheer each other on toward your next career milestones with RALLY.
Apply to jobs ASAP
Apply as soon as you possibly can to jobs you are interested in. Your chances for landing an interview will be higher if you're part of the first wave of applicants. Dedicate some time each day to review your job alerts and apply to any opportunities of interest. Keep in mind, if you're receiving a job alert, so are all the other applicants who have similar profiles and search settings in place.
📖 Read more: Keep Time on Your Side During the Job Search
Put in the work
While we wish we could wave a magic wand and find each member the perfect opportunity at the perfect time, that's unfortunately not possible. We're here to support you along the way and provide tools that help you put your best foot forward. But you have to be the one to take the steps.
Make sure you are taking advantage of everything offered to you in your pursuit, both here at The Mom Project and within your network at large. Take the time to read the articles, watch the videos, make connections and actively seek job opportunities.
The timeline of finding a job varies based on a number of factors both in and out of your control. It's important to focus on the things you can control in the job search and believe that your efforts will pay off in the not-too-distant future.
📖 Read more: How Long Does it Take to Find a New Job?
Join the Community
We are a community that cares about building a better workplace for ourselves and our future generations. It's not just a nice-to-have for us; it's our passion and our purpose. Join our social communities on Instagram and Linkedin to stay motivated and help lift each other up. And if you're looking to extend a hand, consider signing up as a RALLY Booster to support a fellow member one-on-one.
We believe that women shouldn't be forced to choose between their careers and their families. And we are glad you are here.
When you aren't seeing the results you want
Deep breath, friend. We know how stressful the job search can be.
We have done a lot of the work to remove many of the hurdles that typically hold women and parents back as they search for jobs—and we pride ourselves on working hard to continually re-imagine this process.
That said, there are a multitude of talented individuals within our Talent Community that are incredibly qualified for the jobs we have available. While we know you are eager to find your next role, we want you to know that this is still a process and a journey. Be thoughtful, be deliberate, be patient and be kind to yourself.
If you aren't hearing back from job applications
Take some time to evaluate the roles you are applying for. Are you applying for roles as soon as you possibly can? Remember, some of the job search is truly a numbers game, and your chances of scoring an interview will be higher if you're in the first wave of applicants.
Are the roles you're applying for too far outside of your experience level one way or the other? Are you applying for too many roles? Too few? Are you too rigid in your requirements and if so, is there any room for flexibility?
Once you've determined that your search parameters and application cadence is working, make sure you are writing your resume to sell your story, that your "Why Me?" statement is as close to perfect as possible and that you aren't making any of the top 5 mistakes job seekers make.
If you're getting to the interview stage but not getting the role
Try to stand out during your interview with the questions you ask or tune into a past career search bootcamp session. And if you feel like you've tried everything in your job search and aren't making any progress we have experts to help with that, too.
It's easy to feel disheartened after spending some time in the job search process. One of the most impactful things you can do is to keep a positive mindset. If you haven't heard of the benefits of a growth mindset, this is a great time to embrace this powerful outlook on your options and opportunities.
You've got this
We're so excited to see where your career takes you next and we can't wait to help you get there. Ready to get started? Take the next step now.
---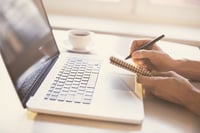 The Essential Career Search Guide for Moms
Job searching as a mom can come with extra challenges. Learn how to own your search and find a position you love.
---
It's about more than jobs. We're making progress.
The Mom Projects connects skilled, diverse talent with family-friendly employers that respect work-life integration, and provides career support and connection to our community of talented moms and allies.