You already know that LinkedIn is an incredible resource when it comes to networking and searching for jobs. There are more than 750-million LinkedIn users across the globe, over 15-million open jobs at any given time, and every minute, three people are hired on LinkedIn. It's honestly kind of mind-blowing how essential the platform has become for professionals.
These numbers are impressive. But they also demonstrate how competitive the market is. 40-million members are searching for jobs in a given week, but there are only 15-million jobs available, which means competition is still fierce.

To stand out from the other millions of people on the platform, your profile needs to shine—it needs to set you apart from the other candidates, and it needs to encompass who you are as a person and as an employee.
A lot is riding on your LinkedIn profile, so it's worth investing some time to get it right. You'll want to fill in every box you can, link out to websites, attach sample work, and showcase your accomplishments. Fill out every part of the profile that you possibly can to have a better chance of showing up in searches (and standing out).
Creating A Complete Profile
LinkedIn is helpful when you're job searching, but it's also useful when you're not actively looking for a new job. It's a spot to connect with other professionals, share ideas, explore your industry and show off a little bit.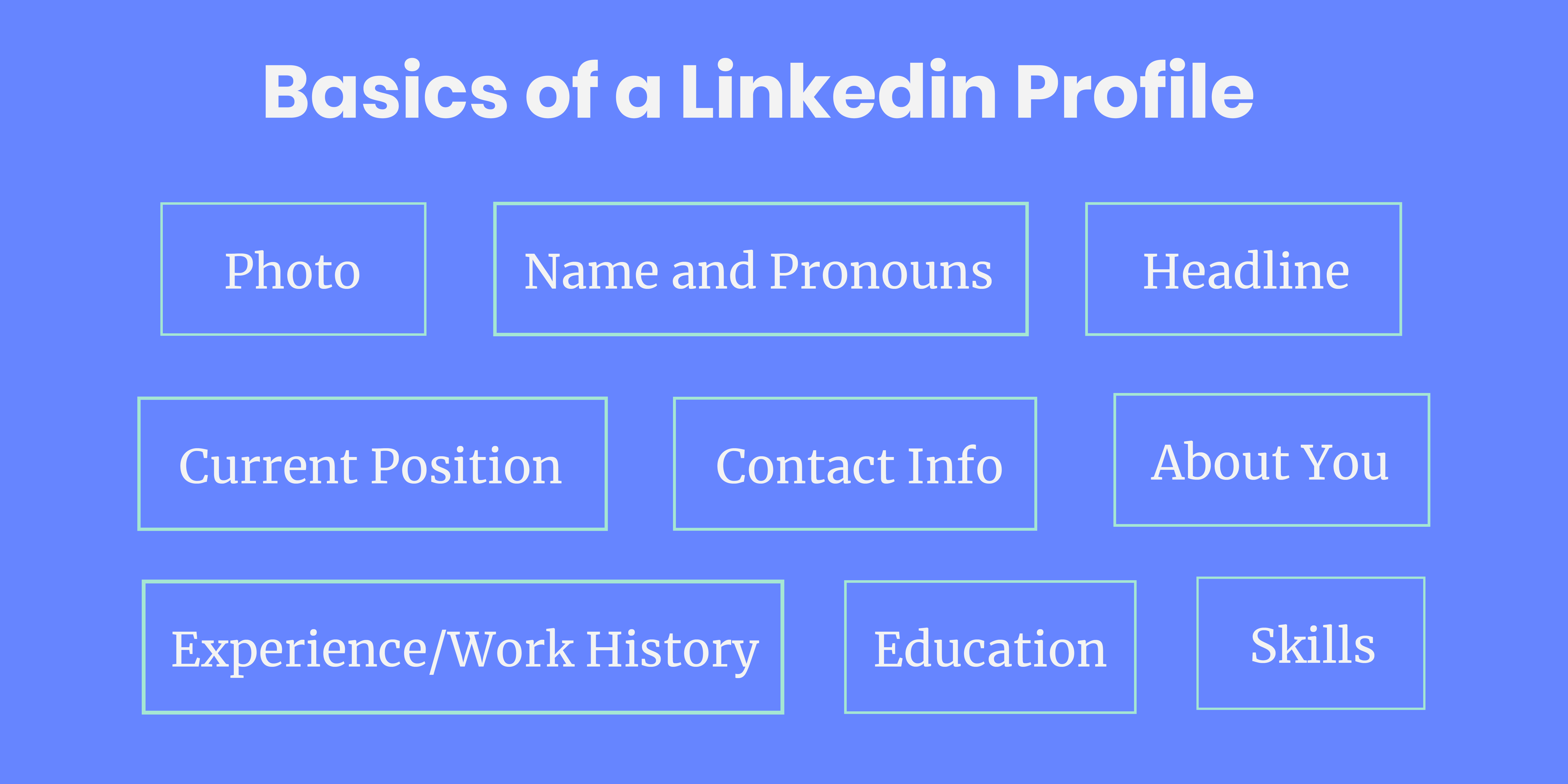 The Basics
Photo: Your profile is seven times more likely to be reviewed by someone if you include a picture, so don't skip this. Try to keep the photo as professional as possible. If you don't have a headshot, style yourself up as you usually would, then have a friend or family member take a picture of you in front of a blank wall in a spot where natural light is coming in.
Name and Pronouns: Obviously, your profile should include your name. If you have changed your name for some reason, you can add in your former name and you can even record yourself saying your name for proper pronunciation. LinkedIn also has the option to include your preferred pronouns so that recruiters and fellow users know how to greet you appropriately.
Headline: Here, you can create a title that appropriately reflects what you actually do that is separate from your formal title at your company. For instance, if your formal job title is something vague like "Marketing Specialist," your headline can read "Digital Marketing Manager & B2B Liaison" to more accurately describe what it is you do.
Current Position: Under your headline, you have the option of also listing your current position (job title and company). Ideally, you should keep this visible at the top of your profile, but if you're trying to take your career in a new direction and your current title doesn't reflect that, then it would be appropriate to opt-out of this.
Contact Info: If you click on "Contact Info" within the "Edit Intro" window, you'll be taken to a screen where you can input your personal website information, email address, and Twitter handle if you'd like. There are privacy settings you can put on this information if you feel inclined to, but the more someone who is not connected to you can see, the better.
About You: This is where you're going to write a summary about yourself and your experience. It should be similar to the one you write in your resume, but it can be a little longer since you don't have a single page you have to stick to. Still, keep it concise and to the point.
Experience / Work History: Every job you've had in the past is going to be added in this section. Ensure you include your title, the company's name, employment dates, and a little information about the job (keep it keyword-rich). If you have a long history, are a contractor or freelancer or have made a career/industry pivot, combine a few jobs into one section to condense things a bit. But be sure to still include the companies you worked for, your job titles, and employment dates (if applicable).
Education: How much detail you put into your education section depends on where you are in your career. If you recently completed your degree, consider including a description of your studies, GPA, or any extracurricular activities or societies you participated in while in school. If you've been out of school for a while, your work history is going to speak louder than your education, so keep it simple with the school name, dates attended, and degree information.
Skills: This section is further down on your profile, but it should honestly be up towards the top because 87% of hiring managers believe a skills profile helps evaluate a candidate. Include whatever you think stands out the most about you and what aligns best with the jobs you're trying to get. Think about the keywords you see popping up in the descriptions of jobs you're considering and include as many as possible (if you truly have the skill, of course). You also have the option to pin your top skills so that they are visible without having to click "show more," so pin the ones that make the most sense with the jobs you're trying to land.
The (Essential) Extras
Background/Header Photo: Not everyone includes a header photo, but you should because it's an excellent opportunity to add a little personality to your profile. You can create a custom header using a platform like Canva or do a quick Google search to find a fair-use picture that is both professional and aligned with your personality.
Featured Attachments: Yes, your LinkedIn profile is basically a resume, but you should still attach a PDF of your actual resume to your page because if someone wants to share your information with a hiring manager or recruiter, they'll probably ask for a resume. Since this will be viewable to the public, only include your email address and web page for contact information (not your address or phone number). You have the option to feature LinkedIn posts or articles that you wrote, websites (like your portfolio), and media such as samples of your work. You don't want to overload this section, but do include your resume and one or two additional items that you think represent you as a worker.
Volunteer Experience: This is pretty straightforward. If you have any volunteer experience or even make regular donations to an organization you care about, include that in your profile. Doing this will allow people who view your page to understand better what you care about outside of work.
Recommendations: These are essentially references from people you've worked with throughout your career, either managers or peers. If you're able to find a few people who will write out a recommendation for you, it will elevate your profile and showcase your worth to an organization.
LinkedIn URL: You have the option to customize your LinkedIn URL so that it is more personalized to you rather than just a long line of numbers. To do this, go to your profile page, and at the right, across from your photo, click "Edit Profile & URL." On the next page, click "Edit Your Custom URL" in the same place, and then type in your name (or some variation of it if your name is already taken).
Job Profile: On your profile, in the basic intro section there is a button that says "Open To" where you can click whether or not to let people know that you're open to work. You can refine this even more by either letting anyone see that you're open to work (including your boss if they happen to look at your profile) or just recruiters. This section also allows you to customize job titles, locations (including remote), and job status you're open to as well as when you can start working.
Groups: Any groups you join on LinkedIn can be viewed by people who are looking over your page, so go ahead and join a few that align with the kinds of job you're hoping to find. Outside of job searching, these groups are also really great for networking within your industry.
Profile Privacy / Visibility: In your settings, you can customize whether or not people who aren't connected can see nearly every section of your profile. The normal social media rule is typically the more private the better, but the opposite is true with LinkedIn. The chances are high that you're not connected to every recruiter or hiring manager who may want to look at your profile, so the more you make public, the better.
Maintaining Your Profile
Completing your profile is no small task, so before you start stressing out over how to maintain it, give yourself a little pat on the back for investing all of that time and work into your profile in the first place. Now, since it was such an investment on your part, you don't want to have to start from scratch again, so make sure you're continuously updating those sections as your career evolves. This way, whether you're job hunting or not, your profile is still rockstar-level and will still stand out, so you won't miss out on unexpected opportunities when you're not actively looking for a job.
In addition to keeping your work history and general profile constantly up-to-date, there are a few other things you can do to maintain your profile so that you still show up on recruiters' radars even when you're happily employed.
Job Alerts: Fill out all of the information you can into the job search field and opt into job alerts. You'll get emails letting you know when jobs with your requirements become available, which is nice when you're not actively looking for a job but are open to a new job if it's the right one.
Create & Interact With Posts: LinkedIn allows you to create posts (almost like status updates), interact with other people's posts and write articles. Consider doing this occasionally (more frequently when you're actively job searching) because it will broaden your network organically. If one of your connections comments on a post of yours or your comment on one of theirs, all of their connections will see it, giving you more visibility to people outside of your network. However, an important thing to remember is that this is a professional platform, so your posts and comments need to reflect that.
The Big Picture
Yes, creating a complete LinkedIn profile is hard work, but by doing it, you're going to get more interactions and give hiring managers a better picture of who you are and what you bring to the table. So much of the job search game is run by AI and algorithms now, and whatever you can do to increase your chances of not getting weeded out of jobs you're perfect for is worth the effort. Now, go complete your profile!
---
Find your next opportunity with The Mom Project
Apply for career opportunities with vetted companies that support work and life integration. From startups to the Fortune 1000, inclusive employers of all sizes use The Mom Project to post job opportunities and find skilled, diverse talent.
Recommended Articles