The search for childcare can feel akin to the quest for the holy grail—from finding alignment on hours or availability, parenting preferences, the way to handle discipline and enrichment, budget and more. When you're in the thick of the search, it can feel nearly impossible to find someone who will care for your little(s) in a way that feels good to you.
Deep breath, friend.
It's completely natural to feel overwhelmed when searching for the most compassionate care and curriculum. Because entrusting other people with your child's safety and development is a big move (as if doing this parenting thing wasn't hard enough). And doing the due diligence in finding the right kind of care is a job in itself — one that should be shared between you and the other guardian(s) of your child(ren) in a collaborative effort if at all possible.
Also worth noting: that due diligence doesn't end once you've found the best solution for you. Ongoing management of the care your child(ren) receives is also par for the course. As a parent, you'll want to regularly check in with the care provider and your child (perhaps yearly or every six months) to ensure the solution is still the right one for everyone involved. Keep in mind, too, what works for you when your kids are little will change as they grow and change themselves. Childcare is a continuously evolving journey throughout childhood and your career.
It might sound like a lot, but the initial time and energy investment, ongoing management, and diligence can help you feel confident that your child is in the best hands possible, freeing you up to focus on helping your career flourish and expand. And that is a feeling worth working for.
Determine what's important
As you embark on the childcare journey, the first step is determining what's most important to you and your child(ren). What do you hope to gain from childcare and what do you need? What kind of commitment do you want? Long term (more than a year) or short term (to get you through the summer)? There's a variety of schools, daycares, caregivers and child development centers that offer an even wider array of options out there. So sit down and spend some time thinking of your needs.
Some initial thoughts to consider:
Do you just want basic childcare or are you looking for more, like a focus on social and cognitive growth and development?
Does your child have special needs such as a speech delay that would need to be accommodated?
Are you interested in the socialization aspect only?
Do you need full-time care, extended care or part-time care? What hours do you absolutely need covered?
How many other children would you like to have in a class or group with your child(ren)?
These answers can help inform your decision-making.
Consider the options
Luckily, there are several childcare options to help mitigate the overwhelming task of determining which choice is best. An array of development opportunities for your child, different caregiving tactics and even various schedules and budgets are presented when navigating the childcare search. Here are some childcare options to evaluate and consider.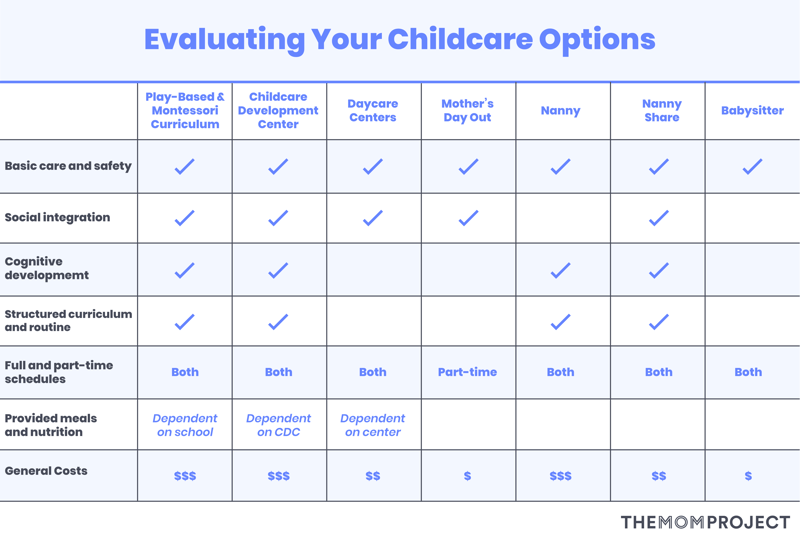 Play-based curriculum and Montessori Schools
Play-based curriculum focuses on fostering a child's individual interests. In these types of centers and schools, you'll find a lot of freedom for the children, a big focus on social-emotional growth and less emphasis on structured work. These programs are generally known for fostering imagination and creative play through collaborative activities and they tend to follow the lead of the children's interests for topics the teachers explore weekly with the group.
Montessori schools are also rooted in play-based learning and founded on five pillars of education: Practical Life, Sensorial, Mathematics, Language, and Culture. These schools have children in mixed-age groups and focus on building life skills and teaching children responsibility for themselves, their environment, and their people.
Both of these options are great for families interested in having their children experience more open-ended exploration in learning but they also usually come with a higher cost for childcare.
Child Development Centers
Beyond just basic care, a child development center employs accredited caregivers with degrees in child development or early education. Child development centers typically focus on fostering learning through a structured school-like schedule and track the children's cognitive, social, behavioral and physical development while providing updates for parents and caregivers on their child's progress.
Child development centers generally follow a more traditional approach to education with early childhood lessons in the basic subjects like math, writing, reading and art.
Daycare and Mother's Day Out
Daycare centers and Mother's Day Out programs typically offer basic compassionate care and supervision for your child. If you're seeking a few days a week (or just a few hours at a time) for your child to socialize and for you to run errands, work and anything in between, a Mother's Day Out program may be the best choice for you. The schedule usually only spans a few hours a day and certain credentials aren't typically required of the caregivers.
Likewise, with daycare centers, the primary purpose is providing basic childcare. However, unlike Mothers' Day Out programs, they typically offer more flexible hours for parents with full-time work schedules. Although there may be some structured schedule and learning, a daycare center's focus is generally centered around basic care and providing a safe environment.
Tour the facilities
If available, touring the school is a smart move when determining the best childcare plan for you. It's an opportunity for you to see the school setting and to familiarize yourself with the staff and any of the school protocols.
Just like you would interview or screen a babysitter or nanny beforehand, a tour of a daycare center or childcare development center is common practice.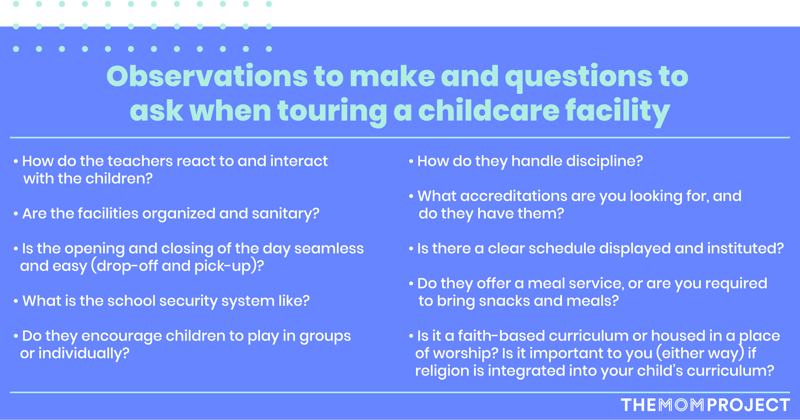 Nannies, Au Pairs and Babysitters
Going the nanny, Au Pair or babysitter route certainly provides more flexibility and convenience in schedule and location, as well as the option for a parent to customize their childcare search to their exact criteria.
Typically, a nanny is a caregiver with early childhood accreditation that provides an environment conducive for learning and growth. They tend to work solely with one family and can generally accommodate your schedule as needed. As a result, hiring a nanny can run on the higher end of childcare costs.
For a similar kind of care that is more affordable, a nanny-share is a popular choice. Nanny-shares have many of the benefits of a nanny but the caregiver is shared among two (or potentially more) families. This may lead to a bit of a less flexible schedule, but there is the added benefit of socialization with other children in a familiar environment.
And some families opt for an Au Pair instead of a nanny. An Au Pair is defined as a young person (between the ages of 18-30), who goes abroad to live with a native family and learn (or perfect) a language in exchange for childcare. Many people stress that an Au Pair is not the same as a nanny because of the various laws around Au Pairs. For example, Au Pairs must fall within a certain age range, they have a maximum number of hours they can work each week, and they are seen as a temporary family member.
Finally, some families might opt for a babysitter who usually just offers supervision and care. Babysitters are a great option if you don't need full-time care, if you have older children, or if you aren't as concerned with the learning aspect of childcare. Babysitters are more affordable, but they may not engage your children in the same ways a nanny or Au Pair would. And younger babysitters can also be perceived as a lot more fun to children because they tend to be more inclined to play the way younger kids enjoy (hide and seek, tag, and so on.)
Although you can be more specific in your search criteria, fundamental questions you may want to ask yourself when choosing the right nanny, Au Pair or sitter are:
Do they have to be a certain age?
Do they have to have a license and mode of transportation?
Do they have a criminal record? (This is where a background check is important!)
Do they have experience working with children? What ages are they most familiar with?
Are they CPR certified?
In some cases, hiring a nanny is equivalent to hiring and onboarding an employee with any company, and the same measures are taken to ensure proper employment. In this circumstance, it's important to consider all the steps when hiring a nanny, like a background check, setting up the appropriate taxes (yes, that's a thing), and determining the amount of sick and vacation days.
Assess the budget
Budget plays a significant role in the childcare decision and can sometimes be a source of frustration. We all want the best for our child but can face the financial restraints that come with it. With nationally-funded financial programs, like WIC offered by the USDA's Food and Nutrition services, there are options for support. Additionally, some employers and companies offer policies and benefits for childcare.
Learn more about childcare support programs:
Another variable to consider is weighing the options after a cost-benefit analysis of your income and childcare costs. Is your salary barely covering the cost of child care? Is that okay with you? If you drop out of the workforce to care for young kids will you want, and be able, to pick up at a place you are comfortable in the future? And what is the long term impact on your earning potential? When considering the cost-benefit, you should look at the immediate implications, but don't forget to also factor in the long term potential for both continuing to work and taking some time away.
👉 Use the Childcare Cost Calculator by the Center for American Progress to better understand the long term earnings impact of temporarily leaving the workforce.
If you are uncomfortable with childcare costs compared to your income, you could try asking for a more flexible schedule and then finding part-time care to distinguish days meant for your focus on deadlines and tasks. However, some parents find joy and enrichment in a full-time working schedule and find full-time care is worth the costs. Ultimately, the decision is what is best for you and your family with your ability to deliver your best work as a key consideration.
Determine if part-time or full-time childcare is best
If you have a choice, take some time to think through your options of part-time and full-time care. Things to keep in mind include the childcare costs, how your child(ren) will handle separation from you, and how much time you want to be away from your child(ren) during the week. Ultimately this choice depends on many factors for each family, but there are options and you should know which you are more aligned with before you start your search.
It's not easy, but can be done
By setting the right expectations, exploring your options and drawing out a clear budget and criteria, the childcare search doesn't have to be so difficult.
If you're still unsure of what option is best for you, crowdsource from friends, family and neighbors to find out what they're doing and what they like about each care plan. Trust your gut about childcare providers and centers and be open to change—sign up for a trial and if it isn't working look for another option.
Striking a balance between childcare in which your child thrives and a financially sound system can happen. Most importantly, be true to yourself and your family—you'll know what's best!
---
It's more than jobs. We're making progress.
The Mom Project supports women throughout their working motherhood journey. Search for career opportunities with vetted, family-friendly employers, and get access to job search tools, career development resources and a thriving community of moms and allies.
Recommended Articles